Mariah Carey Ends 2016 with an Oops
January 9, 2017
On New Year's Rockin Eve in New York City many famous artists took the stage including, Fifth Harmony, DNCE, John Legend, Fergie, Gloria Estefan and more. One of the headliners was Mariah Carey. Carey shined in the beginning, wearing a tight gold leotard and stilettos as her backup dancers fanned her with large white feathers. She first sang the song "Emotions", where her performance began to take a turn for the worst.
As she walked down the stage Carey then fumbled with the lyrics of "We Belong Together", and later the speakers blaring the words to her song proved she was lip-syncing.Traumatized, she smiled in embarrassment and then walked off stage.
Mariah and her manager Stella were spotted browsing around a marijuana dispensary in Aspen, Colorado on Christmas Eve. Could this factor have led to the mishap of the headlining performance?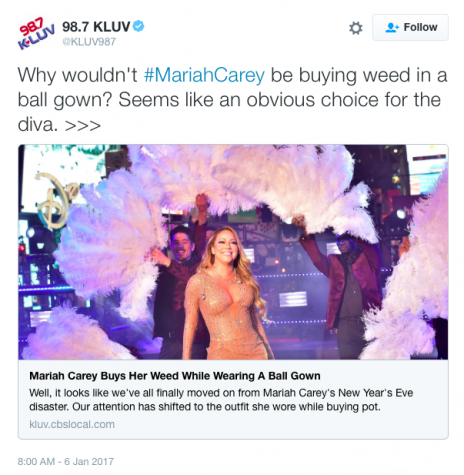 Hollywood and the media was disappointed in Mariah Carey and responded negatively. Jennifer Lopez nonchalantly threw shade by liking a comment on @bivon's Instagram photo of Mariah saying,


Gloria Fallon, a US Weekly Fashion Police writer and comedian Jimmy Fallon's sister, tweeted about Mariah's botched performance.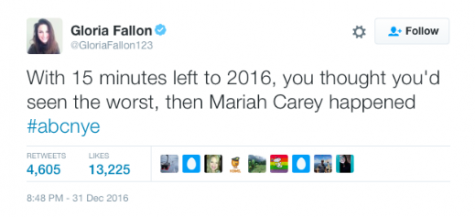 Talk show host, Anderson Cooper called out Mariah's performance on a segment of his show, The Ridiculist.
In reference to the performance, Anderson says, "It was the last volcanically colossal awkward moment of 2016."
Before showing the viewers a clip of the performance he warned viewers saying, ""If you are allergic to cringing, you might want to avert your eyes, and your ears, and your concept of space and time."
Of course, the internet worked its meme magic and turned Mariah from "Holiday queen" to "meme queen". The "Best Vines" twitter page made two memes poking fun at Mariah's performance that went viral.
Meme #1: Is a play on words from the song Bad and Boujee by the rapper Migos.
Meme #2: Highlights the most embarrassing part of her performance.

In embarrassment, Mariah and her manager, Stella, blamed the executives who allegedly set up the incident to create drama for TMZ. Dick Clark Productions hit back at Mariah's claims of sabotage calling the accusations,"absurd and outrageous."After a failed accusation, Mariah could not admit to lip-syncing and in return, her manager, Stella fired Mariah's sound team to prevent future sound complications and cover embarrassment.