Beyonce Drops Out of 2017 Coachella
March 8, 2017
On Wednesday, February 1, pop queen Beyoncé, announced that she and husband, Jay-Z, are expecting twins. Due to her pregnancy, she has decided to drop out out of the Coachella Valley Music and Art Festival. She would've been the first female to headline this renowned music festival since 2007. There has not been an official announcement from the pop star herself, but after this news was released, the public was quickly informed that she was instructed to "keep a less rigorous schedule in the coming months." Beyoncé may be a superstar, but she still has to follow doctor's orders.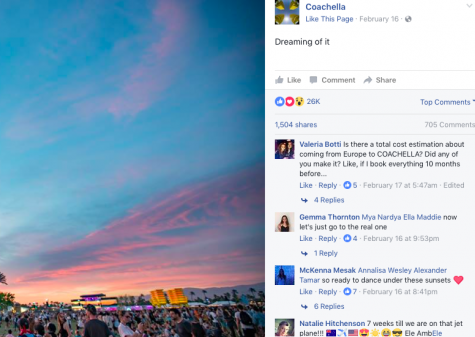 Junior, Mia Lopez said, "I am a huge Beyonce fan, so I know I would have been devastated if I spent a lot of money on a ticket to Coachella to see her perform, but I understand that she is pregnant with twins and that is more important."
Lady Gaga will be replacing Beyoncé at Coachella. Radiohead and Kendrick Lamar are still set to headline the festival, which will take place in Indio, California over two weekends: April 14 and April 21.
Senior, Zoe Cuva, said, "I was surprised to hear that Lady Gaga is going to be the replacement because I feel like there are newer and more popular artists to pick than Lady Gaga. Beyonce and Lady Gaga are not really close to being equally popular, so I don't really think she was a good replacement."
The news of Beyonce cancelling her performance caused an immediate drop in the price of Coachella tickets. Prices for Weekend 1 dropped 12 percent from an average price of $978 to $872. Tickets for the Weekend 2 dropped nearly three percent from an average price of $856 to $834.
Beyoncé isn't performing at Coachella?! How do I go about getting a refund?!

— B R E N N E N (@BrennenTaylor) February 23, 2017
Although numerous people are crushed because they are missing out on a highly anticipated Beyoncé performance, there is good news because she is promised to be a headliner for Coachella in 2018.
"I think now that people know that Beyoncé will be back in 2018, everyone will be even more excited to see her at Coachella and it will make the experience even better", said sophomore, Blakely Byrd.