Fashion Week Trends and Comebacks
March 23, 2017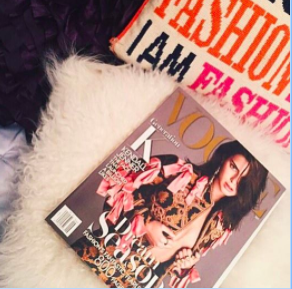 The 2017 Spring Summer Fashion week was filled with diversity and premiered what would be the up and coming trends for this season. Although designers have taken the initiative to portray a strong and modern woman in their collections, most of their styles have pulled inspiration from past eras. High end designers such as Chanel, Gucci, and Moschino have focused in on the 60's, but what seems to be fighting a comeback are the trends from the 80's.
Last season's trends consist of flared bottoms, jean jackets, and off the shoulder tops, which replicated a mixture of the fashion in the 70's and 90's. Still lasting with a strong impression, many academy girls have been able to fit those elements into their style.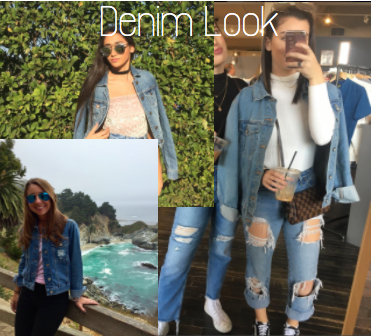 Senior Bella Guerra (right photo), wearing a jean jacket says "A lot of the trends that were popular when our parents were younger are coming back now which is cool. I get a lot of my inspiration for my style from celebrities and bloggers."
The upcoming trends for spring that will soon fill department stores are matching sets of pants and tops, lots of stripes, and florals.
According to the Fashionista blog, the 80's are making a comeback this season with ruffles, bright colors, and oversized t-shirts and Tommy Hilfiger x Gigi's Ready to Wear Collection incorporated just that.
When mentioned to Beth Chase that the 80's are finding a revival and that is it very possible that shoulder pads could be included she said, "I never go out of style. These shoulder pads are staying no matter what."
Something that is making its way up to a top trend is a subtle pop of fishnet tights. Whether is it under ripped jeans or used with heels, stars like Kendall Jenner and Hailey Baldwin are making it work.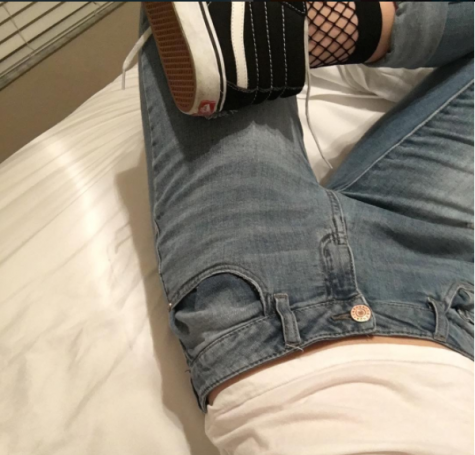 Though taken from high end runway looks, more affordable stores such as Urban Outfitters, Free People, and Topshop are just a few places that make any of these looks possible. Although these trends may seem to appear as if they would need full commitment, just as simple as a vintage graphic t-shirt or floral dress can be a way to keep up with the current fashion.