Twenty One Pilots Return to Tampa
March 7, 2017
After skipping Tampa in the first leg of their "Emotional Roadshow" tour, two-man band Twenty One Pilots returned to Florida to perform at Amalie Arena on February 28. Band members Joshua Dun and Tyler Joseph are no strangers to Tampa, as they were the headlining act for 97x's Next Big Thing (NBT) at the MidFlorida Credit Union Amphitheater in 2015.
Senior Addison Diaz shares that she only attended NBT for Twenty One Pilots and says, "I had a horse show that day, so the second I was done competing I had to rush over to the Amphitheater so I didn't miss them."
Senior Chloe Paman says, "I saw them perform for the first time at NBT in 2015 and that's when I started becoming a really big fan of theirs, so I was really happy that I got to see them again at their own show."
ØRLANDO(FL01) #ERS2016 •• pic.twitter.com/ycWui1FfCV

— twenty one pilots (@twentyonepilots) July 3, 2016
Later in 2016 they visited Florida for their own tour but only stopped in Orlando, Sunrise, and St. Augustine. Over a year later, Dun and Joseph finally returned to Tampa for one of the last shows of their tour in North America. The night before the highly anticipated concert, fans had already started lining up to ensure their spots at the front of the pit.
Paman says, "Being in the pit definitely made the concert a better experience. Tyler and Josh are very interactive with their audience; as you may know, they get into the pit on multiple occasions and sing with their fans. The last song they sang, 'Trees', is the main reason why I love being in the pit for their concerts because they get into the crowd and are literally held up by their fans while they bang on drums to the beat of the song."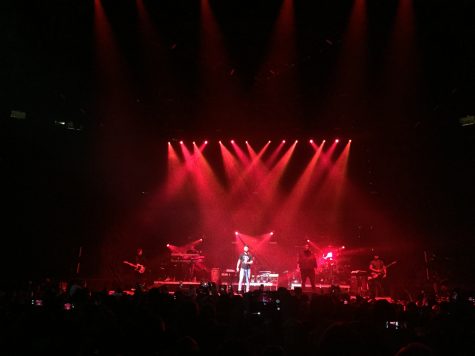 The show kicked off at 7:00 p.m. with opening act Jon Bellion performing a few songs, including his hit single "All Time Low", followed by Judah the Lion, who sang some of their songs including "Take it All Back pt.2".
Dun and Joseph hit the stage at 9:00 p.m., opening up with "Fairly Local",a song off their most recent track, Blurryface. Throughout the show, the duo performed songs off all three of their albums, such as "Addict with a Pen", "Trees", "Guns for Hands", and "Tear in My Heart". They also performed their hit single "Heathens", and their cover of My Chemical Romance's "Cancer". However, many fans were disappointed that Joseph did not sing his cover of "Can't Help Falling in Love".
Sophomore Megan Scanlan says, "I was really upset because it is my favorite song by them and I was really disappointed not to hear them sing it live. Every time one song ended, I thought 'Can't Help Falling in Love' would be next but it never was. Regardless, I still really enjoyed the concert."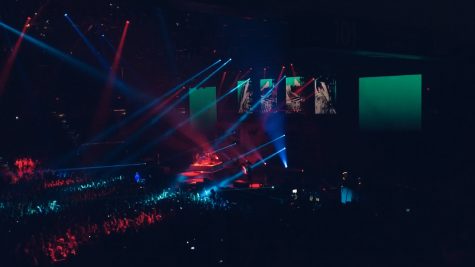 Dun and Joseph also brought the opening acts out again later in the show to all perform covers of songs such as "Twist and Shout" by the Beatles, and "Jump Around" by House of Pain.
Senior Marie Dela Cruz says, "I knew Tyler and Josh were going to sing the old covers because I looked at the setlist ahead of time, but I had no idea they would call out Jon Bellion and Judah the Lion again, so I was pleasantly surprised."
The show lasted roughly two hours and was packed with non-stop energy as Dun and Joseph never ceased to give 110 percent into their performance. Although the boys have been extremely busy on this tour for over the past year, they promise their fans to continue making new music and to go on tour again.