"It" Takes Social Media By Storm
September 28, 2017
The movie adaptation of Stephen King's 1986 novel, "It", has been extremely successful in its two weeks at the box office, grossing over $404 million to date. According to Variety.com, the movie is the highest-grossing horror film of all time. Directed by Andy Muschietti, much of the film's buzz can be credited to its enormous presence on social media.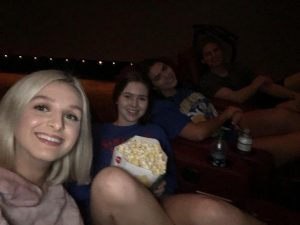 According to Twitter analytics, hundreds of thousands of users continue to tweet about the movie every day. The majority of these tweets are memes, which explains the trend's spike in popularity. Not only are memes something that all viewers can bond over, but it encourages others to buy movie tickets, being that they want to get in on the fun.
When the gazebos kick in pic.twitter.com/bPbjTxXuX9

— Scottyplagues (@Scottyplagues) September 20, 2017
Julia Lee ('18) saw the movie twice in one weekend, saying, "I was excited to see the movie, not only because I enjoyed the book so much, but also because I know it is going to be a classic movie that later generations will enjoy."
Some of the most viral memes include "Pennywise Dancing" and "Pennywise Tempting from the Sewer". Even teachers are taking part in the craze. AP Literature teacher, Melissa LeBlanc, added a Pennywise meme to her class powerpoint, both satisfying her love of memes and relating to her senior students.
Brielle Gentile ('17) has not yet seen the film, saying, "The memes don't scare me. They are pretty unsettling. It's impressive seeing how creative people get with the memes, though."
Everytime We Touch #ITMovie #IT #ItMovie2017 pic.twitter.com/oZrFSh46eQ

— Pennywise (@Pennywise_Dance) September 12, 2017
Lily Bailey ('21) has also been seen with the 1,138 page novel, saying, "I wanted to read the book both because I had already seen the movie, and a friend recommended it. The book is fairly similar to the movie, and much of the book is supposed to be included in the movie's second installment."
pennywise: you'll float too, eddie

eddie: lemme ask my mom

pennywise: i'm not giving you an opt-

eddie: she said no :///

— olivia saw ffh🏳️‍🌈🦈 (@spidertsh) September 17, 2017