Big Artists, Bruno Mars, and Tim McGraw Play Their Hits at The Amalie Arena
October 24, 2017
Excitement has surrounded the long awaited performances from three hit artists this past week. Bruno Mars, and Tim McGrawand Faith Hill all traveled to Florida on their national tours. All three artists performed at  Amalie Arena in downtown Tampa the weekend of October 19. 
HE'S HERE. @BrunoMars #Tampa pic.twitter.com/DcWx6phqha

— Amalie Arena (@AmalieArena) October 19, 2017
Bruno Mars is a 32 year old, American, singer-songwriter- specializing in contemporary R&B, funk, pop, and soul. He has been nominated for the prestigious Grammy Awards 18 times, winning two of them: Best Male Pop Vocal Performance for "Just The Way You Are" in 2011 and Best Pop Vocal Album for "Unorthodox Jukebox" in 2014.
Mars lit up the stage for his 24K Magic World Tour on Oct. 18. His set included 18 songs, mostly reigning from his newest album, 24K Magic. The show was full of energy and was incredibly lively. Mars' music has a mix of old funk (almost reminiscent of 80's) and new pop, so the crowd ages ranged widely.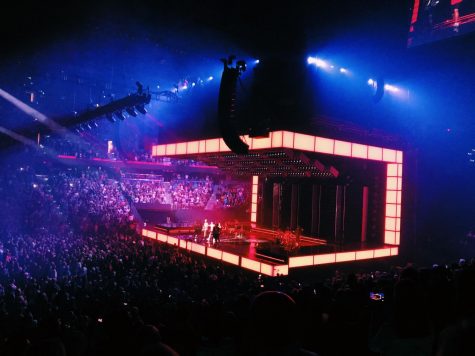 Many Academy students were in attendance and had plenty to say, "It was my very first Bruno Mars concert. I thought he was a very good performer because he had a lot of charisma. He's a really good dancer which surprised me," said Mary Kelly Cardillo ('20).
Bruno Mars "Just the Way You Are" from AchonaOnline on Vimeo.
Many students were thoroughly impressed with Mars' dancing skills, "Every song he sang made you want to get up and dance. He is an amazing dancer, so it was so much fun to watch his perform," said Hope Joffray ('18).
For the country lover, Tim McGraw and Faith Hill, both 50 years old, joined forces to take the stage on Oct. 20. Tim McGraw and Faith Hill are a famous, married, country-singing couple. Solo, Hill has won five Grammy Awards and 15 Academy of Country Music Awards. Similarly, McGraw has won three Grammy Awards and 14 Academy of Country Music Awards.
https://twitter.com/TheTimMcGraw/status/921471416045920256
On their Soul2Soul Tour, McGraw and Hill performed a variety of songs from multiple albums. The couple included many covers of songs.
Watching Tim and Faith perform together was so entertaining. Both are so talented and seeing the husband and wife dynamic made it a really sweet, good show," Joely Barkett ('20) said.