Camp Flog Gnaw Carnival hits Los Angeles
November 1, 2017
Multitalented rapper, artist, and entrepreneur Tyler, the Creator created Camp Flog Gnaw Carnival in 2012. Staples of the show include performances from well known artists, carnival rides and games, restaurants, and a ferris wheel. The annual extravaganza is two days long, running from 12 P.M. to 12 A.M. each day at Exposition Park in Los Angeles.
Camp Flog Gnaw Carnival is back in session October 28 & 29!
Tickets on sale this Thursday at 12pm PT.https://t.co/lvB0CQAvTQ pic.twitter.com/tBhrDceKQs

— Camp Flog Gnaw (@CampFlogGnaw) August 14, 2017
On Thursday morning, hoards of fans began lining up at Exposition Park. With the doors staying closed until noon, lines and anticipation grew thick. As fans began to pile in past security and check in, people dispersed between three different stages. The Camp Stage, the largest of the three, housed headliner artists. The Flog Stage, across the park, was a bit smaller with a large field of grass for spectator's to lounge on. Finally, the Gnaw Stage, in the center of carnival rides, games, and food stands, hosted DJ's all day that kept crowds hype between performers.
Saturday kicked off with smaller names like DJ Osh Kosh, Kittens, and Mike G around noon. More well known acts followed throughout the day like Brockhampton, 6lack, Vince Staples, Mac Miller, Migos, Lana Del Rey and Tyler himself. The weekend's special guest was indie rocker Mac Demarco, which surprised fans who were expecting Tyler's typical collaborators like Kali Uchis and Frank Ocean. The surprises did not stop with Demarco, as rappers YG, Ty Dolla $ign, G Eazy, and more graced the stage as special guests.
The festival was prepared for a swarm of teens and twenty somethings with an abundant supply of food trucks, free water, charging stations, and even TV screens to watch the Los Angeles Dodgers play in the World Series. Not all festivals are this well planned, which was a huge plus for festival goers.
The high energy continued into Sunday with performances from Kehlani, Lil Yachty, A$AP Rocky, Solange, 2 Chainz, Kid Cudi, and more. Between acts, if fans weren't waiting hours for merchandise or trying to score a ride on the ferris wheel, they could try their hand at a carnival game. Prizes included CFG socks, blankets, pillows, beanies, hats, and more.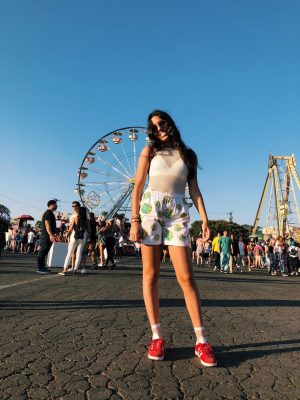 The weekend long musical wonderland held upwards of 50,000 people, the show's biggest turnout to date. The majority of these fans had at least one aspect of their outfit coming from Tyler the Creator's "Golf" clothing line. The line's newest pieces dropped the Thursday before the festival, and line's at the carnival's Golf tent reached six hours long. Fans of Tyler the Creator and his Odd Future rap group are considered one of the industry's most dedicated fanbases, which was apparent as tens of thousands of spectators belted every word to his songs along with him.