Brockhampton Takes the Stage in Ybor City
January 30, 2018
On Friday, Jan. 26, 2018, rap group Brockhampton dropped by Tampa Bay as part of the Love Your Parents Tour. Deemed "America's Favorite Boyband" and "The Internet's First Boyband", the eclectic group of rappers, singers, and producers has taken the United States by storm in the past year. The band released their first mixtape "All-American Trash" in 2016, their first album "Saturation" on June 9, 2017, their second album "Saturation II" on August 25, 2017, with a third, "Saturation III", released on December 15, 2017. The group has built a dedicated fan base, and has received critical acclaim.
america's favorite boyband. pic.twitter.com/erXBHQWbYp

— kevin abstract (@kevinabstract) January 29, 2018
In the fall of 2017, the group announced that they planned to embark on a national tour, their second ever tour, following Jennifer's Tour in 2017. Tampa was the eighth stop on the 32 city tour. Over 1,100 fans squeezed into The Ritz Ybor for the sold out show. After hours of anticipation, with fans like Meghan Curinga ('18) lining up since 1 p.m., member Ameer Vann graced the stage around 8:30 p.m. to hundreds of chants, screams, and cheers.
https://www.instagram.com/p/Bdtbn7qHuKA/?taken-by=iansimpson
Setlist:
BOOGIE, QUEER, STAR, GUMMY, FACE, ZIPPER, SWAMP, GOLD, JELLO, SISTER/NATION (SISTER Only), STUPID, JUNKY, SWEET,

BUMP

, BLEACH

bearface. Solo Set:

SUMMER

,

TEA

M
The show was the definition of high energy. The group showed no signs of exhaustion from being on the road, giving their all from "BOOGIE" to the show's encore. Although front man Kevin Abstract (Ian Simpson) warned fans before the show that he had lost his voice via Twitter, Abstract gave a stellar performance while maintaining a captivating stage presence.
Tampa wins the entire tour wow

— kevin abstract (@kevinabstract) January 27, 2018
Meghan Curinga ('18) secured a terrific spot at the front of the crowd, saying, "I wanted to go because I started out listening to Kevin Abstract and when I first heard 'Ben Carson' by Brockhampton I was hooked. My favorite part of the show was when they sang "HOTTIE. I was surprised that Kevin came out at the end to meet people because a lot of times he doesn't. "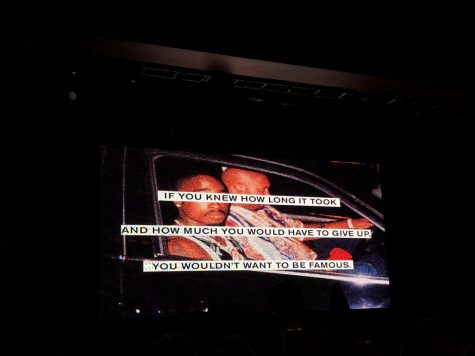 Allie Golson ('19) also attended the show, saying, "My favorite part of the show was definitely when they played "HOTTIE" because it's my favorite song off of the Saturation III album and I think it really surprised everyone. I wanted to go because I've been listening to Brockhampton for a while now and I respect them a lot as artists because they're not afraid to be inventive and break into different genres. They have a lot of versatility and that can attract more demographics."