Academy Thespians Compete at States
March 23, 2018
Over mini course week, the Academy Thespians, troupe 0846, competed at the Florida State Thespian Festival. The Florida State Thespian Festival is the largest high school festival in the country and celebrates the hard work of theatre students from various schools, statewide. This year, the festival took place at the Tampa Convention Center in Downtown Tampa from March 14 to 17 and the theme was Peace, Love, Thespians.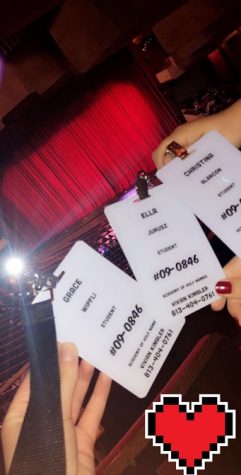 Troupe 0846 previously competed at districts and received two superiors, qualifying for two categories: large group musical and contrasting monologues. Thespians Julia Barreto ('18), Nyla Jacobs ('18), Christina Alarcon ('18), Mia Torres ('18), Gracie Wipfli ('18), Brielle Gentile ('19), Ella Jurusz ('19), Allie Golson ('19), Robin Sailor Zander ('19), Hannah Skelly ('19), Lauren Colquett ('21), and Victoria Huerta ('21) were all in attendance. The AHN thespians was directed by troupe leader, Vivian Kimbler.
The event began on Wednesday, March 14, with the opening ceremony showcasing the best performances from each district at the Straz Center. Thursday consisted of more competition and a performance of the musical, Forever Plaid, at the Tampa Theatre.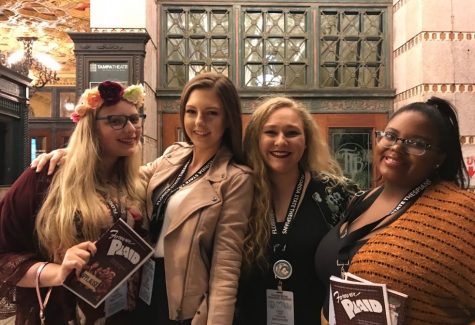 Friday morning, troupe 0846 competed at 8:00 AM in the large group musical category. Members competing included: Alarcon, Barreto, Jacobs, Torres, Wipfli, Jurusz, Golson, Zander, Skelly, and Huerta. Shortly after, Torres competed in contrasting monologues. Each performance received an "excellent" adjudication.
Friday evening, the troupe attended a performance of Sideshow, put on by Blake High School on the Morsani stage at the Straz.
"I thought it was really fun and we had such a great time hanging out as a troupe. I enjoyed Blake's Sideshow so much. It was amazing because the talent wasn't like something you would expect from a high school. It felt like a real Broadway show," Alarcon ('18) said.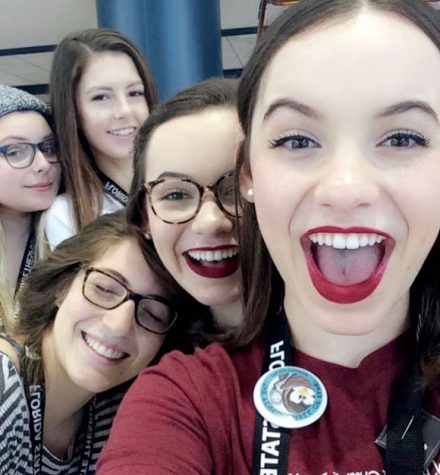 The final day consisted of more performances, a closing ceremony, and a dance held by the directors of the festival.
As you all make your way home and back to the "real world," remember: you are not alone, you are loved, and you have power through your voice! Congrats to all on a wonderful week!! #peacelovethespians #wemissitalready #flstatethespians2018

— FL State Thespians (@FLThespian) March 18, 2018
"It was super cool to see so many people who have so much talent [from] all over the state of Florida. It was also really emotional at closing ceremony because the Parkland students performed an original song. It was really a moment of coming together and making art, not war," Torres ('18) said.
Together we have the power to change the world around us #MSDStrong @FLThespian pic.twitter.com/h2m2ANDcfa

— el (@ellaslaughter_) March 18, 2018