AHN girls join Jesuit Theatre in Presenting "The Great Gatsby"
April 13, 2018
As AHN has been preparing for the spring production of "Cinderella", a number of students have lent their talents to Jesuit High School, for the production of "The Great Gatsby". The group will perform four showings of over three days, at 7:30pm each night from April 12-14, as well as a 1:00pm matinee on Sat. April 14. Tickets can be purchased at Jesuit after school in Jesuit's Multipurpose Room from 3:30-4:15pm; during 4th and 5th period lunch; and at the door before each show one hour before curtain. Tickets can also be purchased online here.
Director: Richard Miller
Cast:
Jay Gatsby: George Morgan '18
Nick Carraway: Riley Buchanan '20
Daisy Buchanan: Isabella Onken '18
Tom Buchanan: Tyler Peterson '18
Jordan Baker: Lauren Lavery '18
Meyer Wolfsheim: Harrison Redd '18
Myrtle Wilson: Hannah Skelly '19
George Wilson: Jack Mahoney '18
Mrs. McKee: Julia Barreto '18
Mr. McKee: Xander Arena '20
Gangsters: Vinny Losauro '18, Billy Gibbs '18
Ensemble: Mia Leto '18, Morgan Salzsieder '18, Evan Greek '18, Alex Smith '18, Allie Kimpland '18, Olivia Traud '18, Hannah Traud '20, Michael Camareno '18, Patrick Byrns '20, Patrick Close '19, Gio Taylor '21, Nick Asher '21, Charlie Mandt '20, Matthew Starkey '20, CJ Rodriguez '20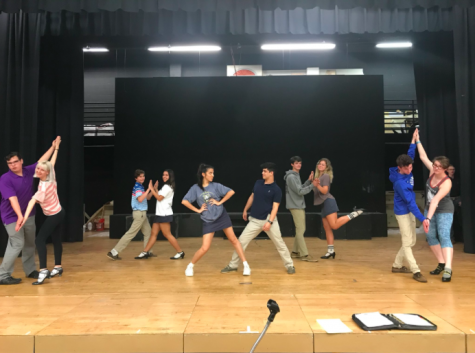 The idea of performing this classic production was a possibility at the end of the 2016-2017 school year, but solidified over the summer and the beginning of this school year. Auditions were held in January. After the main cast was selected, the members of the ensemble, from both Jesuit and Academy, were gathered and briefed on the performance and their specific responsibilities. In addition to the ensemble, members of the crew joined to take on the responsibilities of set design, props, lighting, music, and more.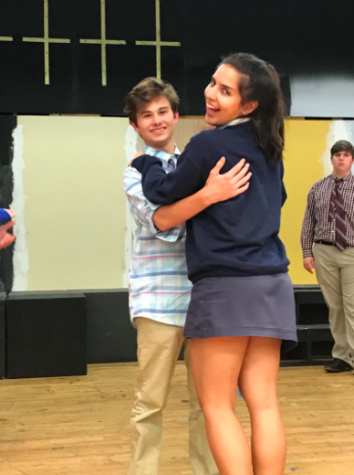 Theater amateur Evan Greek ('18) says, "I never thought I would join a school play. However, one day on the class Facebook, Julia Barreto and Olivia Traud posted that dancers were needed to be in the ensemble for the Jesuit play. My friend Allie and I decided to join the play together because it was senior year and we wanted to do something fun. I am really happy that I decided to do it and have made new friendships that I am thankful for."
Getting things done over spring break. #Gatsby2018 #jesuitmasque #AMDG pic.twitter.com/tr9JBQd7mm

— Jesuit Theatre (@JesuitTheatre) March 5, 2018
Olivia Traud ('18) has been in charge of costume design and production, saying, "My goal was to find costumes to match the character as well as the actor a little or add a personal touch to make them get into character and put on a great show."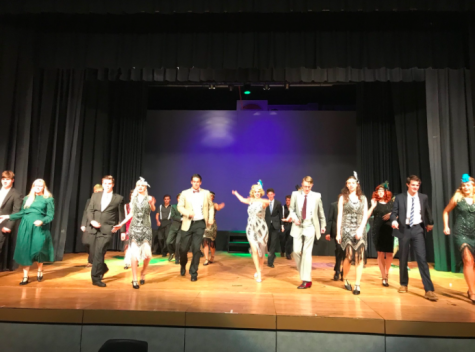 This production is especially exciting for both the students involved and audiences alike because of the amount of people involved. Director Richard Miller has expressed his excitement and gratitude for the many students who decided to join the theatre for the first time, making for one of Jesuit's largest spring productions to date. Because of the nature of "The Great Gatsby", large dance numbers and party scenes are vital for making the story successful when presented onstage.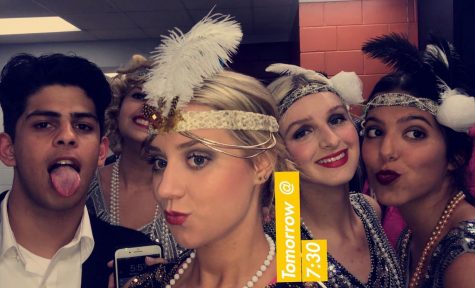 Traud says, "The costumes are a vital part of "The Great Gatsby" because that era was well known for flapper dresses and I found a different dress for each girl. I gathered inspiration for many different places including websites I used for research, the movie (not the 2013 version), and by using what each actor had at home or what Jesuit already had. I don't think another production of Gatsby would have as unique of costumes as we do that reflect the character and actor."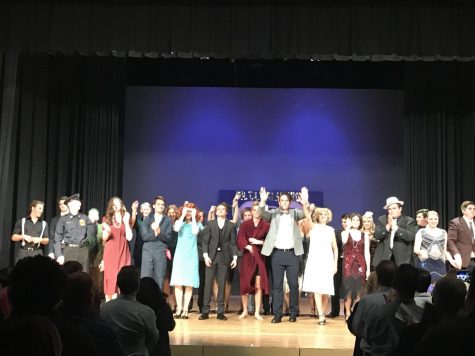 Lindsey Perez ('18) was one of the few that secured a ticket to opening night's sold out show, saying "The dancing was great. There were some funny parts that surprised me. Overall, I think the cast did a great job."
SaveSave