Behind the Scenes of Cinderella
April 13, 2018
This year, Academy's theatre department will be putting on the spring musical, Cinderella. Auditions were held at the beginning of the year and the cast has been working tirelessly since September to prepare the show for the stage.
The Rodgers and Hammerstein's version of "Cinderella" varies greatly from the classic. The tale concerns a young woman, Cinderella, played by Isabella Ruano ('21), who is mistreated by her stepmother and two stepsisters. After being transformed by her fairy godmother, she is able to attend the ball and meet her Prince. The biggest twist in this version of "Cinderella" is that she must open the Prince's eyes to the injustice in his kingdom.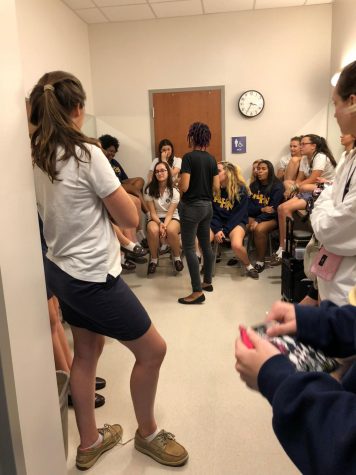 "Being in Cinderella this year has been so fun. It's been a really great learning experience and has taught me a lot about teamwork. It takes a lot of people to put on this show," said Hope Joffray ('20).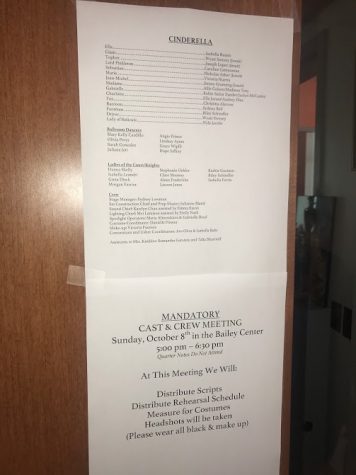 Tech week began on Sunday, April 8, 2018 and will continue until Wednesday, April 11, 2018. Tech week can be a very stressful time for cast and crew as it is entails the longest and most demanding rehearsals. Students stayed at school around the times of 3 p.m. to 11 p.m. the night before the show.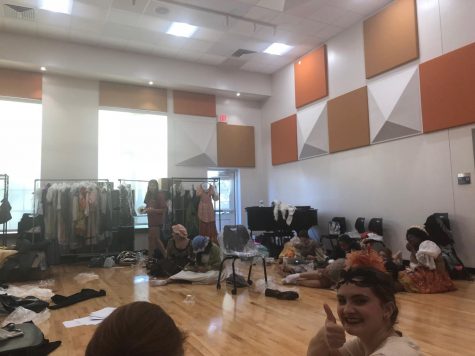 "We made a lot of progress during tech week. It's been a long time coming and I'm so excited to see how it turns out. I really want some honest feedback on the show," said Julianna Jett ('19).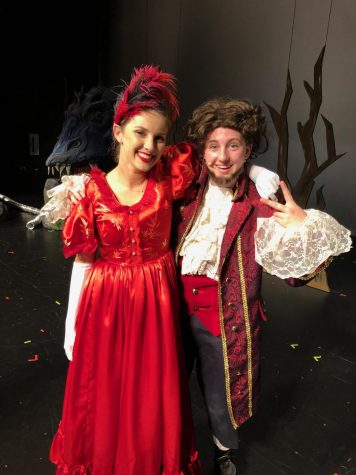 Like the classic story, Cinderella 's and her fairy godmother's ordinary dresses both undergo a transformation into beautiful gowns. In order to make this fairytale a possibility, director, Vivian Kimbler, custom ordered two "transformation gowns" for Ruano and Victoria Huerta- the fairy godmother, Marie. These gowns are double layered. The first layer is drab peasant wear, held down by buttons that conceal the shimmery gowns. Once buttons are unsnapped, the ballroom dresses are unveiled.
https://youtu.be/gZDPozZsk90
"Tech week is definitely a process. When you start out it's pretty rough. It's a little overwhelming. As the week goes on, you get more comfortable with the show," said Olivia Perez ('20).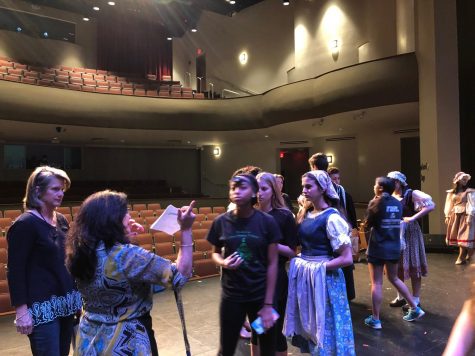 Opening night of Cinderella took place on Thursday, April 12, 2018. The show lasted two and a half hours and the evening was filled with entertainment, laughter, tears, and enjoyment.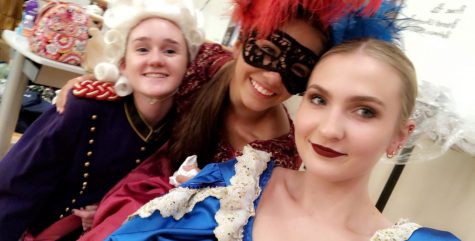 "Cinderella was amazing. I saw it opening night and I was really impressed with how professional everyone was. The sets were very elaborate. I would definitely recommend it," said Bella Kirkpatrick ('18).
Cinderella will take the stage April 13-14, 2018 and April 19-20, 2018 at 7 p.m., doors open at 6:30 p.m., and tickets are $10 for students and $12 for adults.