The Cast List for "Cats" Announced
October 22, 2018
The cast list for Academy's spring musical "Cats" has been posted. The cast started rehearsing last week, for the play which will be performed April 4 through April 8, 2019.
The cast and crew consists of many members, some returning from past years' plays and others who will be a part of the school play for the first time.
Senior Morgan Farrior, playing Alonzo, said, "This is my fourth year in doing the [school] play. I have been in 'Bye, Bye Birdie,' 'Footloose,' and 'Cinderella.' Rehearsals just started last week and we are beginning to go through the script and getting to know the characters. We are practicing the songs and learning to unleash our inner cat."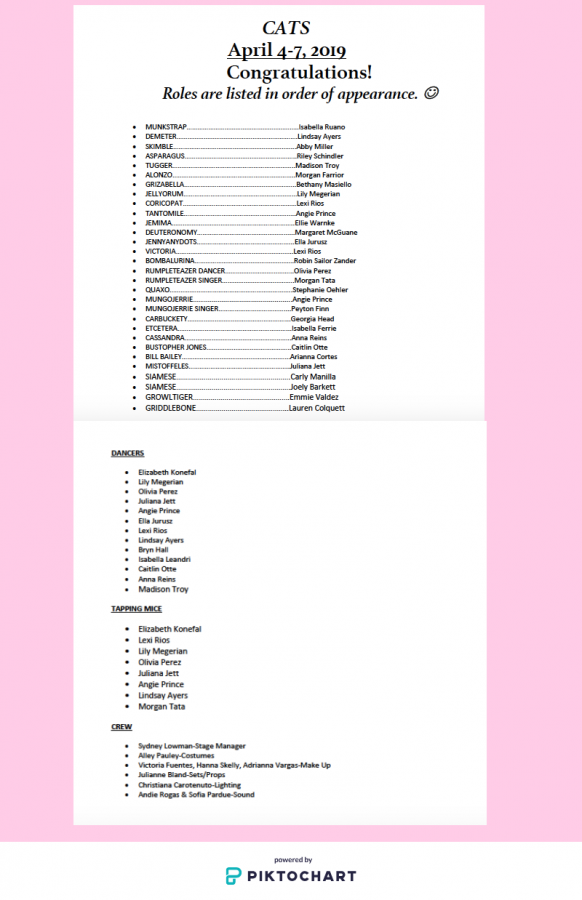 The rehearsals are currently taking place three times a week and are separated by dancers and singers.
"We have started rehearsals early this year due to all of the dancing in the play. It's really exciting to see such a dance and vocally centralized musical, instead of the previous [centered on only dance or song] productions AHN has performed," says Lindsay Ayers ('19), cast as the role of Demeter.
1981 May 11th The show opens to excellent reviews. The show is a sell out and the calls from other countries begin… pic.twitter.com/4I0rMokXYF

— Cats the Musical (@CatsMusical) September 21, 2016
Many AHN students plan on watching the production.
"I am looking forward to watching 'Cats' this year because a lot of my friends are in it, and I am excited to see how they perform," said Chasie Cordoves ('21).