Ed Sheeran Concert Review
November 8, 2018
Ed Sheeran is a popular musician whose albums such as "X" and "Divide" have sold up to 38 million copies. He also received the 2017 Spotify Award for most streamed artist. Sheeran's song, "Shape of You," amassed over one billion streams alone.
Sheeran concerts are known to be very different from all other artists. Sheeran performs alone on stage, playing his own instruments such as guitar and piano. There are no props or a band.
This year, Ed Sheeran is on his  "North American Stadium Tour." He performed at Raymond James Stadium on November 7, 2018. He does not plan on touring the United States again for three more years. 2021 will be his next concert in Tampa.
Lauv and Snow Patrol performed as the supporting artists. Lauv took the stage at 7:00 p.m. He preformed songs such as "Dancing in LA," "Superhero," and "I Like Me Better." Lauv lives in California and this was his first time ever performing in Tampa.
Mckenzie Diaz ('19) says, "I love Lauv's one song called, "I Like Me Better." I have listened to it for a while and I have never heard it sung in person before so that was an awesome experience. I also thought it was cute how he kept thanking Ed Sheeran for inviting him on the tour."
Snow Patrol took the stage next after a 20 minute intermission. They played songs such as, "Open Your Eyes," and their most famous song, "Chasing Cars." Snow Patrol originated from Northern Ireland.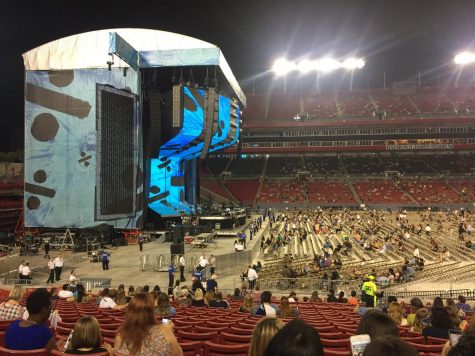 The lead singer, Gary Lightbody said to the cheering crowd, "I have the utmost respect for the Tampa Bay Bucs having to play in this heat. An actual contact sport in this heat."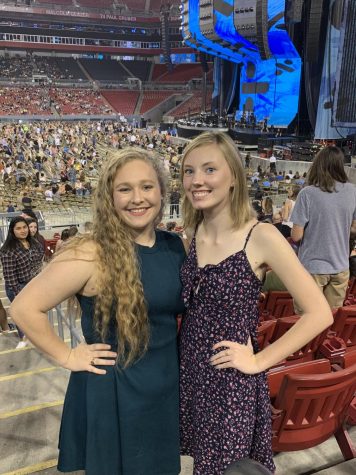 Katherine Fernandez ('19) says, "I knew Lauv would be preforming as the opening act but Snow Patrol was a surprise for me. I really only knew their one song, "Chasing Cars," but they were still really fun to hear in concert."
Ed Sheeran took the stage at 9:00 p.m. He played many well known songs such as, "Thinking Out Loud," "Perfect," "Galway Girl," and "Nancy Mulligan."
His two encore songs included, "Shape of You," and "You Need Me, I Don't Need You." For his encore he entered the stage wearing a Tampa Bay Buccaneers jersey with his last name on the back.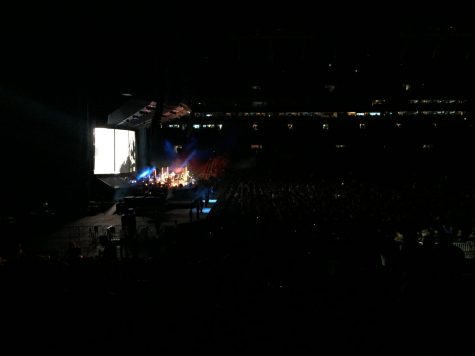 Arianna Cortes ('22) sat on the floor seats. Cortes says, "Ed Sheeran is so incredibly talented. This was my second time seeing a concert on this tour and I was still blown away. He is my favorite concert experience. I love that he uses a loop pedal and makes all of the background music during the show. I can't wait for another one."
Ed Sheeran shared with the audience that Florida was the third show he ever played in the United States. The first two were New York and California.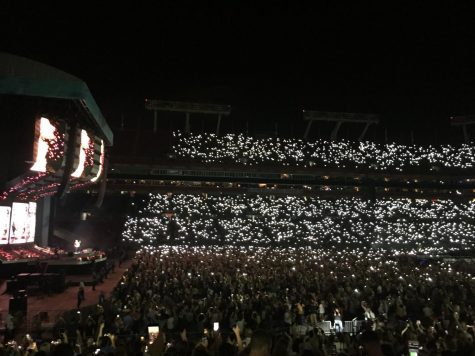 New York is the first show he played because it was the closest and then California because it was on the coast. The first time he ever played in Florida was as an opening act for Snow Patrol.
Cassie Hiatt ('22) says, "Ed Sheeran was amazing. He played a lot of different songs. Some were from his albums and some he had never played before in a concert such as his movie track songs. This was my first time seeing him in concert and he didn't disappoint"