U2 Performs at 3Arena in Dublin
November 16, 2018
On Nov. 5, 2018, U2, a rock band from Dublin, Ireland, began the last leg of their 2018 "eXPERIENCE + iNNOCENCE Tour," giving the first of their four sold-out performances at 3Arena. In addition to the concert on November 5, U2 also performed on Nov. 6, Nov. 9, and November 10, 2018, in their hometown.
U2 consists of four members: Lead singer Bono, lead guitar player the Edge, bass guitar player Adam Clayton, and drummer Larry Mullen Jr. In 1976, the rock band formed in the midst of a rocky time in Dublin. However, after their third album "War" made charts, they went on to become one of the most well-known rock bands of all time. Popular songs from "War," such as "New Year's Day" and "Sunday, Bloody Sunday," helped contribute to U2's fame. In addition, the band's songs "With Or Without You," "One," and "Beautiful Day" are also well-known by listeners.
In addition, some students know of U2 due to their partnership with Apple in 2014. When their album "Songs of Innocence" released on iTunes, it listed as free to all Apple users, and in some cases, appeared automatically in the music libraries of users.  
Madison Bissett ('20) said, "Although I like some of U2's songs, I thought it was annoying when they pushed their album out to all of our phones. I didn't know the songs, so I didn't want them on my phone."
On Saturday, November 10, 2018, U2 gave their final performance at Dublin's 3Arena, which was also the second-to-last performance of their tour. Following this show, U2 performed a make-up show in Berlin, Germany, after it was cancelled due to Bono's health issues.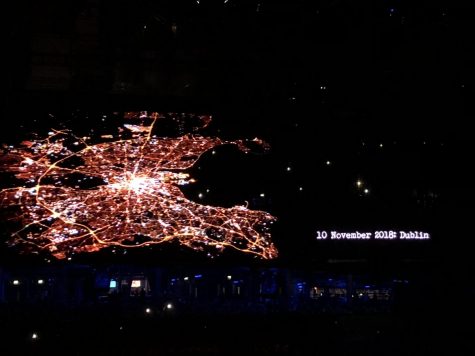 The arena's doors opened at 6:30 p.m. on Saturday. Although the doors opened early, U2 did not take the stage until around 8:30 p.m. The band had no opening act.
With no empty seats in sight, the concert lived up to its sold-out status. 3Arena holds a total of 13,000 people through a combination of standing room and physical seats. The indoor arena allowed for an intimate concert experience due to its structure. In addition, the building also provided excellent acoustics for the concert.
U2's elaborate stage and production measures contributed to their spectacular performance. When the concert attendees entered the arena, they were met with a large, rectangular cage in the center of the floor. This cage served several purposes; not only did it function as a screen for U2 to display their visuals, but it also operated as its own kind of stage. Due to its ability to be moved, the cage added special effects to U2's performance. Its placement also allowed for U2's members to place themselves "in the crowd," adding to the show's interactive elements.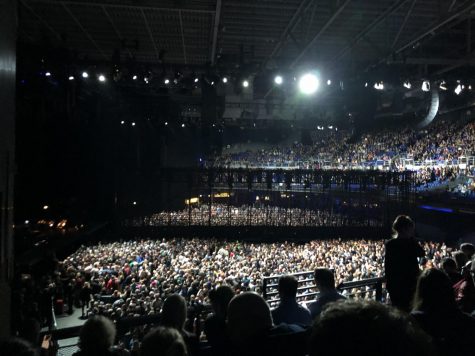 During the concert, the band used the gigantic screen to display several different images. For example, illustrations of the band members, footage from times of war, comics, political slogans, and maps were just some of the visuals chosen by U2 to add to their performance.
Isabella Ferrie ('21) said, "I thought that the U2 concert was really fun. It was cool to see rock legends in their own hometown. The floor was a different experience than those that I am used to. It was really cool being so close to U2, but the other people on the floor were definitely aggressive."
Throughout the concert, U2 shifted between three different stages: the main stage, the cage, and a circular stage in the center of the arena. The main stage offered a traditional concert view, whereas the other two stages provided a closer and more personal look at the band. Overall, the circular stage achieved the most intimate experience for fans on the floor and within the rest of the arena.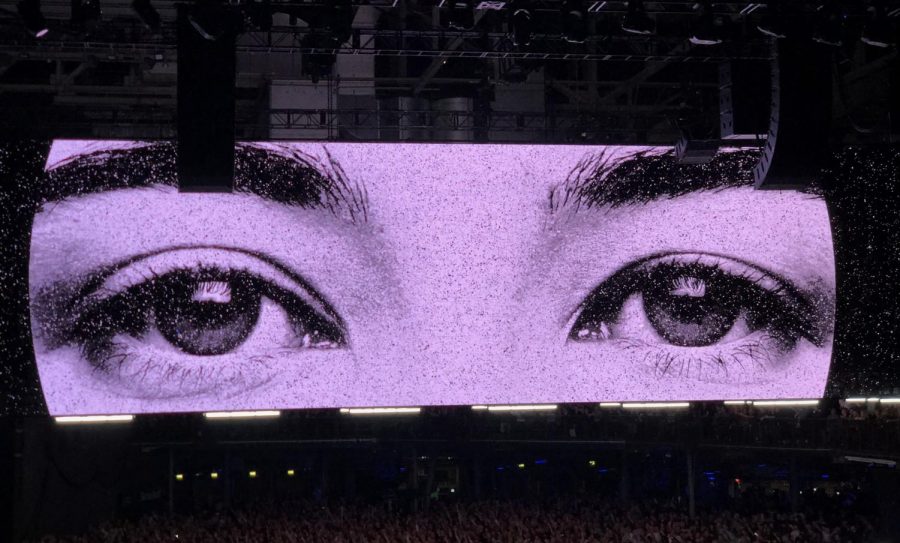 Despite Bono's recent struggles with his health, which have affected his vocals, the lead singer's voice was strong throughout the entirety of the concert. Alongside the performances of the Edge, Clayton, and Mullen Jr. on each of their respective instruments, U2's Dublin concert was a stellar performance. The theatrics of the band members, specifically Bono, provided an electric atmosphere for those in attendance. Whether they had physical seats or were among the floor's standing room, concertgoers were enthralled by the show. Throughout the concert, those on the floor could be seen jumping, waving their arms, and singing along to the band's songs.Those who were seated were equally as energetic during the show.
Isabella Duarte ('21) said, "I like U2 because my dad would always play their songs for my sister and me when we were little. I think that they're a great band, and my favorite song is 'Where The Streets Have No Name.'"
U2's setlist included songs from several of their albums, including "Songs of Experience," "Boy," "October," "Zooropa," among others. The band made sure to play a mixture of popular songs alongside anthems from their newest albums.
During their final performance of their tour in Berlin, Bono announced that U2 would be "going away now." As a result, the band's followers are unsure if this statement signifies U2's retirement.