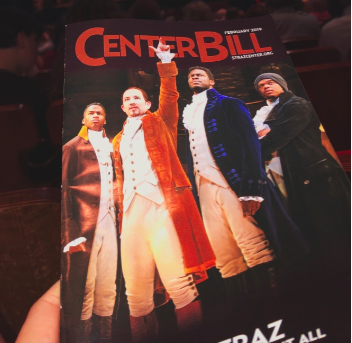 Photo Credit: Isabella Thorpe/Achona Online
Hamilton Comes To Tampa Bay
February 27, 2019
Carol Morsani Hall at the David A. Straz Center is the "Room Where It Happens" from February 12 to March 10 as the "11 time Tony winning" show from playwright and actor Lin Manuel Miranda, "Hamilton," premieres in the Tampa Bay area.
APUSH student Danielle Duarte ('20) says, "In class when we were learning about this time period, Mrs. Kearney played the music and we got to listen to and anyalyze the lyrics. I'm a musical theatre fan, so I think it's cool that this is a fun way for people to be educated about our history."
Incoming! Tonight, both the #PhilipTour and the #AndPeggyTour are telling our story to audiences in Tampa, FL and San Francisco, CA as they kick off their runs at @StrazCenter and @SHNSF. #Hamiltour pic.twitter.com/dlxyAwyIfy

— Hamilton (@HamiltonMusical) February 12, 2019
As suggested by the show's title, "Hamilton" relays the story of Founding Father and the first U.S. Secretary of the Treasury Alexander Hamilton from serving as George Washington's "Right Hand Man" to his infamous duel with Vice President Aaron Burr. Having first premiered in 2015, the Broadway musical has had unfathomable success throughout the years due to its celebration of diversity.
"I mean what am I not looking forward to," says renowned APUSH teacher Lori Kearney a day before she went to the show. "There's nothing about that show that I just don't love. I'm really looking forward to hearing "Burn"…. it's interesting to learn the facts about his eventful life, but this brings the emotional and interpersonal piece to it. That's what makes it so real and out of a textbook… you realize that these historical figures were also people. You see into someone's life."

The Tampa show features Joseph Morales as Hamilton, Nik Walker as Aaron Burr, Erin Clemmons as Eliza Hamilton, Ta'Rea Campbell as Angelica Schuyler, Marcus Choi as George Washington, Kyle Scatliffe doubled as Marquis de Lafayette in the first act and as Thomas Jefferson in the second act, and Jon Patrick Walker as King George.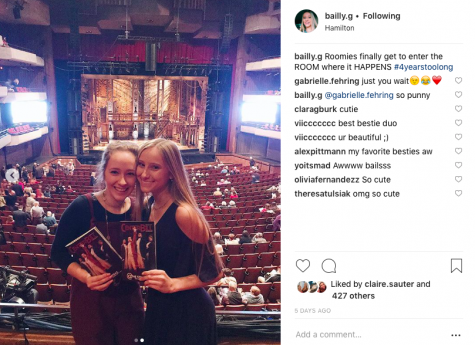 Senior Lauren Dingle, who has both seen the show on Broadway and the Tampa one, says, "At first, I wasn't sure about Aaron Burr, but then he sang "The Room Where It Happens" and I loved him. In fact, what I liked about the Tampa show was that this Aaron Burr had more personality." Admittedly, she says, "As someone who listens to the soundtrack a lot, I tend to match the voice to the character so naturally I was taken aback when the characters did not sound the same as those recorded in the original Broadway cast soundtrack."