Christmas Movies Released on Netflix in 2019
November 18, 2019
Christmas is right around the corner and Netflix is one step ahead of the game. Netflix  hasreleased fifteen Christmas movies so far this year. The movie genres are romance, comedy, animated, and action.  Some of the newly released movies are older while others are brand new.  Almost all Christmas movies are meant to be watched with your families and bring everyone together.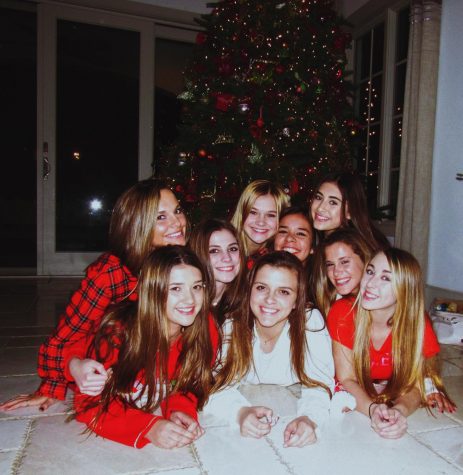 The Christmas movies released on Netflix in 2019:
"Let it Snow"
"Christmas with the Kranks"
"The Grinch"
"A Christmas Prince"
"Christmas Inheritance" 
"Klaus"
"Holiday in the Wild"
"The Holiday Calendar"
"A Christmas Prince The Royal Wedding"
"Santa Girl"
"Christmas with a View"
"The Christmas Chronicles"
"Christmas Break-In"
"The Nutcracker and the Four Realms"
"Holly Star"
"I finish shows really fast so I am always watching new shows and movies.  There are so many new Christmas movies to choose from on Netflix. Even though it's a little early for Christmas movies, seeing all the Christmas movies on Netflix makes me really excited for the holidays, said Ashley Jones ('22)
The new Netflix original, "Let it Snow", is capturing the attention of many Academy students.  The movie is about a snowstorm hits a small town on Christmas Eve, affecting loving relationships, friendships, and many high school seniors.  
"I love the new Netflix original "Let It Snow."  I do not have a lot of free time to watch Netflix because I play soccer, so the new movie put me in the Christmas spirit.  I love romantic movies but I love Christmas movies even more," said Mia Fairchild ('23).
"Christmas with the Kranks" came out in 2006 and is a great family movie.  The plot of the movie is about Luther Krank and his wife, who have to deal with the fallout from their neighbors when they choose to skip Christmas.
"I remember watching "Christmas with the Kranks" all the time with my family when I was a kid.  We would all make hot chocolate, get our blankets out, sit in the family room, and watch the movie together during the Christmas season.  I am so happy it is on Netflix now and I'm definitely going to watch it with my family this year," said Halston Seton ('20).
"The Grinch" is one of the most popular Christmas movies of all time.  The well-known movie is about a grumpy green Grinch who plans to ruin Christmas in the cheerful town of Whoville.  A generous little girl wins over his heart and puts him in the Christmas spirit, making him realize what the holiday is all about.  
"I have loved the movie, "The Grinch", since I was a little girl.  I use Netflix almost everyday so when I saw The Grinch on it, I went insane.  I have probably watched it five times and I am so happy that it is on Netflix now.  It really puts me in the Christmas spirit and makes me feel more stress-free," said Macie Ferrer ('20)
I just watched the new movie Klaus on NETFLIX and I must say I am gleefully surprised.

It's a great family movie that plays with the origin and traditions of Christmas without succumbing or depending on the magic elements of the story.

The best part: Solid character development

— J. Goodman (@GoodManWonder) November 16, 2019
Another Netflix original released this year is "Holiday in the Wild."  The movie is about the main character, Kate, who goes on a solo second honeymoon to Africa due to her husband randomly ending their marriage.  She hopes to find her purpose, get over her ex-husband and even find a potential partner during the Holiday season.  
"Christmas is my absolute favorite holiday.  I have probably seen almost every Christmas movie so when I went on Netflix and saw all these new Christmas movies, I was so excited.  "Holiday in the Wild" was a really fun movie to watch because I have never seen it. I am so happy there are new Christmas movies to choose from and I plan on watching almost all of them," said Isabella Alvordiaz ('21).