The Impact and Influence of Shoegaze
December 11, 2019
Known for building cosmic, almost neo psychedelic walls of celestial sound, shoegaze is a subgenre of indie and alternative rock that emerged in the UK in the 1980s. Shoegaze is often referred to as "dream pop", but with more guitar elements. 
The British press described this style of music as "shoegazing" because at shows, artists would perform with their heads down, staring focused at the guitar pedals (which were used heavily) in order to perfect their sound. These guitar and distortion techniques caused shoegaze to often be referred to as dream pop with heavy guitar elements. 
This employment of obscured vocals, guitar distortion, feedback, and loud noise is to create dreamy and ethereal atmospheres in which instruments can hardly be distinguished from one another. The lyrics of shoegaze are very anti pop and introspective, with deep melodies, swirling reverbs and distortion that cause them to blend in flawlessly with the instruments. 
Unfortunately, the spiked relevance of Britpop and grunge music in America shoved many shoegaze bands to the side in the late 90s. However, shoegaze has recently reemerged (with more pop elements) through bedroom pop, DIY artists that seek to achieve the same musical atmosphere, such as Tame Impala and Clairo.
The exact origin of shoegaze is up to debate, but many believe that the genre is epitomized with the band My Bloody Valentine, specifically their album "Loveless," which is one of the first known albums that incorporates these shoegaze elements, and has been used as inspiration for countless other shoegaze artists. 
My Bloody Valentine formed in 1983 in Dublin, Ireland. After signing to Creation Records, they released three EPs and two albums, "Isn't Anything" and "Loveless". 
"Loveless", as previously mentioned, was extremely influential and iconic for specifically the shoegaze genre and is widely thought to be MBV's magnum opus. The dissonant guitar textures, layered and distorted vocals, and unusual production methods were unlike anything previously seen before. 
"Loveless" was released amongst the era of bands such as Pearl Jam and Nirvana, as a result of this it struggled for commercial success and recognition. However, "Loveless" was utterly groundbreaking, a masterpiece of swollen noise and abstract loops that somehow combined elements pop, punk, and rock while remaining its own entity of uniqueness and originality.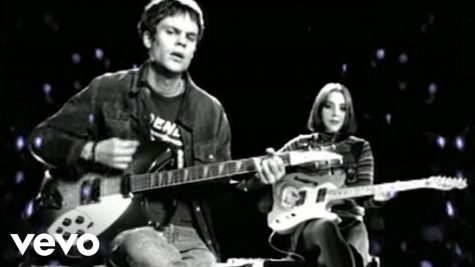 The album's opening track, "Only Shallow", flawlessly fluctuates between powerful guitar riffs and a calm ambience, walking a tightrope between bliss and terror. All of this layered over soft, hypnotic vocals, which were purposely mixed low to contribute to the ethereal atmosphere of the album.
This song epitomizes both the vocal and production techniques most often used by My Bloody Valentine. Additionally, it revolutionized the use of "glide guitar." 
Sophomore Sophia Garcia said, ""Loveless" is one of my all-time favorite albums. It's sorta overwhelming because of how raw it feels, and if I listen to certain songs like 'Soon' or 'To Here Knows When' I feel a sensory overload because of all the instruments- but in the best way possible."
Pitchfork wrote, "As a band and as an idea, My Bloody Valentine stands for many things: sonic perfectionism, outsized ambition, and success." These words ring true throughout the entire sonic journey that is "Loveless:" every guitar distortion, garbled bass line, and ambient synthesizer gets better after the next.  
Slowdive is another infamous shoegaze band, formed in England in 1989. The band has four members, the majority of whom met in high school: Rachel Goswell on vocals and guitar, Neil Halstead on vocals and guitar, Nick Chaplin on bass, and Christian Savill on guitar.
Slowdive has three albums: "Just For A Day", "Souvlaki", "Pygmalion", and, "Slowdive", which was a remaster of an old EP. 
After the formation of the band and a few shaky demos, Slowdive signed to Creation Records and released their self titled EP, which received vast critical acclaim.
Following the EP was "Just For A Day," which, as stated by the band members, was the result of many drug induced studio sessions and a desire to forge their way through the path of abrasive guitar and abstract music set by shoegaze bands before them.
Next for Slowdive was "Souvlaki", a masterpiece and listening experience of an album following the breakup of Goswell and Halstead. In a documentary done by pitchfork on the creation of "Souvlaki," Halstead speaks of the weeks that he spent isolated in a cabin in the Irish countryside. As a result of the writing he did during his self-exile, the songs on "Souvlaki" are very emotionally-driven and dense with the woes of a deteriorating love.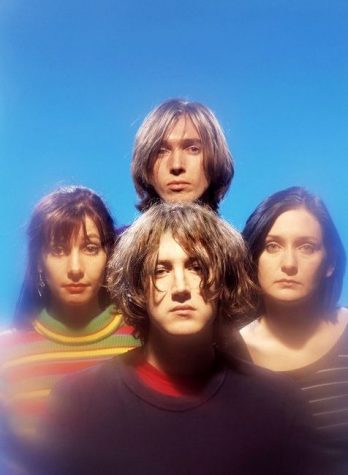 Another early example of the iconic genre of shoegaze are Cocteau twins, a Scottish band formed in the late 70s. The Cocteau Twins are most well known for their classic ethereal, shoegaze sound and the soprano vocals from Elizabeth Fraser, who often makes the lyrics difficult to comprehend.
 These vocals characterize their sound, along with simple guitar melodies and captivating basslines. They released a plethora of albums and EPs, but "Heaven Or Las Vegas" is widely thought to be their most successful.
 The album is a technicolor explosion of supersaturated instrumentation and melting guitar chords that act as a backdrop for Fraser's vocal acrobatics. "Heaven Or Las Vegas" is compact and accessible while still maintaining its dignity and artistry. 
These traditional shoegaze elements of soft, low mixed, distorted vocals have crept their way into many modern musical artists, such as Clairo. The ethereal synthesizers and psychedelic, overpowering guitar that is so characteristic of shoegaze is also evident in the music of Tame Impala.
The genre of shoegaze has been one of the most influential, with artists that speak of its impact dating all the way up to today. Bands such as My Bloody Valentine, Slowdive, Cocteau Twins, and many more pioneered its movement, with the aid of guitar gliders, pedals, and carefully obscured vocals. And, like all musical genres, it will continue to shift and mold with the ages.