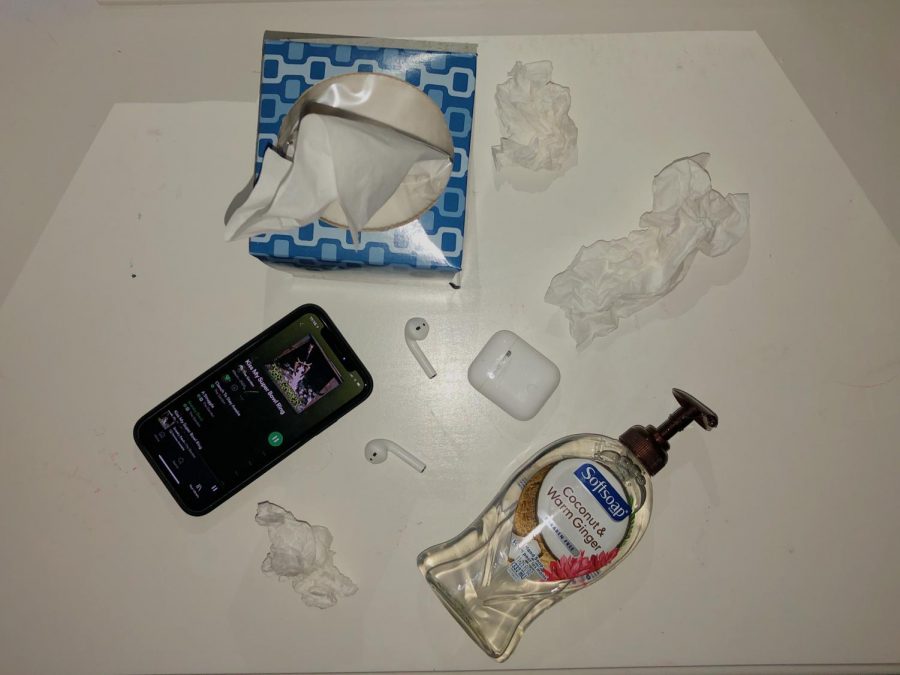 Photo Credits: Sydney Wills/Achona Online
A Quarantiner's Guide To New Music
March 26, 2020
Many will be spending the next few weeks in self-quarantine, holed up inside, desperate for new and engaging activities. Luckily, the last few weeks have been bursting at the seams with amazing new releases of genres spanning from rap to experimental punk. Consider this a formal listening guide of the best new releases for your next few weeks in self isolation.
To begin, rock duo The Garden released their fourth studio album on March 13, "Kiss My Superbowl Ring." Unsurprisingly, this album is a bit of a venture from the sound of their last album, as it is much more of a post punk, hardcore industrial sound.
 The Orange County based duo truly outdid themselves with this album, as it is my personal favorite of their discography so far. Each track is packed with unique, industrial sounds as they teeter upon a tightrope in between two very different sounds.
At times, the sound is blissfully dissonant, crowded with sudden explosions of noise and hardcore bouncy synths. However, there are moments of peace among jangly drums and a softer, more melodic vocal delivery from Wyatt Shears. 
The overall sound, while filled with juxtaposition, is consistent and unique, truly embodying the "vada vada" limitless art mentality invented by The Garden themselves. The lyrics are gloriously punk without being slimy, and wacky and sarcastic without trying too hard.
Track two and standout song "A Struggle" is one of my favorite songs of the year so far, embodying every mentality of the album in one masterpiece of a song. Throughout the song, the duo plays around with space, jumping suddenly from hardcore, crowded screamo to borderline jangly percussion dispersed around soft melodies. The song is filled with melancholy synth and a wonderful digital reverb that accompanies the sudden tone switches which make the song so notable. 
Happy album release day to us! It feels so good that Every Bad is finally out in the world🌞🐍

Listen/buy here https://t.co/2MRz6hiPBz pic.twitter.com/Ev77JalR4Y

— porridge radio vs. rock 'n' roll (@porridgeradio) March 13, 2020
British DIY post-punk band also had a highly anticipated release, "Every Bad," on March 13, earning them a spot on Pitchfork's best new music. This was a wonderful album with a notable performance from frontwoman Dana Margolin. 
Flooded with ocean motifs and lyrical repetition, each one of Margolin's lyrical mantras pulls you further and further into her ocean of sound until you're forced to succumb to the feeling of submersion in her sea of instrumentals.  
The songs are very emotionally driven, filled with super honest songwriting that's charmingly minimal. This approach makes the songwriting that much better, as it just comes off as so honest and genuine as a result of not being overcomplicated. This in conjunction with Margolin's shrill, honest lyrical delivery further adds to the overall powerful mood of the record. 
"Every Bad" is a record packed with juxtaposition, between the loud-quiet-loud instrumental sound and lyrics that often contradict themselves, such as "I don't know what I want/ but I know what I want," and "I want want want you/ I need you." 
"Nephews" is a standout song, with its lyrical motifs of sinking in the ocean and instrumentals to back this up: drums and swells of guitar that sound like crashing waves, along with a guitar-set tempo that is as steady and consistent as the tides. At the end of the song, the tempo slows and the instrumentation slowly gets muddled and dissipates as the lyrics fade out: it literally feels like finally giving in and sinking under the crashing waves to the peacefulness of the ocean.
The album is filled with themes of introspection, discomfort in your own body, and the meaning of "home." These themes are introduced by vocalist Dana Margolin's voice, only to be set on fire and lifted into the air by her band's instrumentation. 
Indie rock band Wallows also released a single, "OK," last week. This is their first release since the drop of their most recent album, "Nothing happens." The song begins with a slow volume buildup centered around a decent bassline. As the rest of the instruments flood in, classic Wallows 80's electronics and compressed vocals fill the empty space on the track. 
Overall, the song is really poppy, cute, and catchy- a really uplifting track. As Dylan Minnette sings "can we get up and try to feel ok again," this song is certain to become the soundtrack to uplift your quarantine rut.
Maryland upcoming rapper, Rico Nasty, also blessed us with a new single last week. The track is called "Lightning" and is accompanied by psychedelic purple imagery featuring lightning and melting effects. The song itself is even a bit psychedelic, with its backdrop of haunting flute, grimy 808 drums, and occasional warbled vocals. 
Thankfully, these artists have blessed the mundane days of self isolation with some new music- hopefully some of these tracks and albums can provide entertainment.