Hidden Shows on Netflix
December 2, 2020
While I love "Grey's Anatomy "and "The Vampire Diaries" as much as the next person, it's always a good idea to branch out and explore shows you may never give a chance on a regular day. From recent shows to ones more than two decades old, here are a few lesser-known shows on Netflix to try: 
This 26-time Emmy Award-winning show stars 80s heartthrob Rob Lowe, Academy Award-winning actress Allison Janney, Martin Sheen, and more. Sheen plays the President of the United States, Janney his press secretary, and Lowe one of his speechwriters. 
Not only does "The West Wing" keep viewers on the edge of their seats, but it's also fascinating to see how the same political concerns that shook the White House in the late nineties are still heavily-debated problems today. The show also offers an inside (though dramatized) look at how the White House runs while simultaneously throwing in a few romances and strained relationships.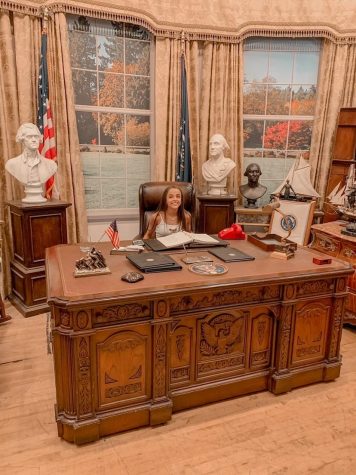 "I've been watching the show since I was 8 years old and I've rewatched it six times so far. I definitely recommend it for those who are interested in politics and government," says Adrianna Vargas ('21).  "But, at the same time, you don't really have to have any preconceived knowledge of government to understand and enjoy it. I don't think I would've discovered my passion for government and politics if it wasn't for watching this show."
While "Reign" may currently be more popular than "The West Wing", it's still a pretty unknown show. It stars Adelaide Kane as Queen Mary of Scots who goes to live in French court where she's engaged to marry the next king of France, Francis. 
But, just because it's set in the 16th century doesn't mean it's a dull historical show. Imagine 'Gossip Girl' taking place inside an elegant French castle. Between love triangles, the imminent threat of war, and a mysterious entity living in the woods near the French palace, Mary's life is nothing short of entertaining to follow along. 
View this post on Instagram
Paige McGuinn ('22) says, "I would recommend it because it's really entertaining. The love triangle reminded me of Elena, Damon, and Stefan from the Vampire Diaries."
By day, Dexter's a blood analyst for the Miami Police Forensics Department. By night, he's a vigilante serial killer, using his psychopathic tendencies for the good of Miami-Dade. Dexter lives by a code: only kill those you are certain to deserve to die. Ignoring the Fourth Amendment, Dexter finds his own evidence to sentence people to death. The show is the definition of a nail-biter, keeping watchers' interests piqued throughout each and every episode. 
View this post on Instagram
"It was really interesting because he only killed people he felt deserved it," says Ashley Jones ('22). "If you like crime shows and suspense then I would definitely recommend it."
Based on the true-crime novel by Margaret Atwood, "Alias Grace" follows the story of Canadian murderer Grace Marks. In prison, a psychiatrist comes to evaluate if she's lying about her memory of the night of the alleged murder, or if she genuinely can't remember what actually took place. The show flips back and forth between Mark's discussion with the psychiatrist and her memories leading up to the murder. While you may be yelling at your screen the whole series wanting to know if she did it or not, "Alias Grace" should definitely be on your list of show priorities. 
View this post on Instagram
"I absolutely recommend it," says English teacher Dr. O. "They were pretty faithful to the book. Atwood gave it her blessing and if it's good enough for Margaret it's good enough for me."
Kenya Barris, writer of hit shows "Black-ish", "Mixed-ish", and "Grown-ish", makes his starring debut alongside "Parks and Recreation" star Rashida Jones in this hilarious sitcom. It follows the real-life story of Barris, told from the eyes of his daughter, played by Iman Benson. Barris has six kids, and the series follows how he and his wife, Jones, handle raising them. It's shot Office-style and highlights relevant social justice issues like racial discrimination and micro-aggressions. 
View this post on Instagram
"I really like "Blackish" but I feel like #blackaf is a bit too obvious with their jokes," says Melissa Cox, English teacher. "I think that there are more insightful shows that can talk about the seriousness of being black in America a little more tastefully. I recommend "Insecure" or "Blackish" instead."