Explaining the First Two Episodes of "WandaVision"
January 20, 2021
DISCLAIMER: CONTAINS SPOILERS FOR "WANDAVISION"
"WandaVision" has been highly anticipated by Marvel fans all over the world since it's announcement shortly after the release of "Avengers: Endgame," the third and final sequel to the 2012 blockbuster film "The Avengers." While it was rumored that "WandaVision" would explore the complex idea of reality-warping, few fans were prepared for just how confusing the first two episodes might be.
those first two episodes of wandavision confused me even more😢😭 pic.twitter.com/wKLz2j5mj9

— adeel ⧗ CHAN PLAYED PRETTY SAVAGE!!! (@wintcrswidow) January 15, 2021
"I've been looking forward to this show because I consider myself a pretty big fan of Marvel productions. There haven't been any new movies to watch since 'Avengers: Endgame,'" said junior Shelby Drinkwater.
If you haven't watched every Marvel movie preceding "WandaVision," or at least "Avengers: Infinity War," it's unlikely you'll notice the most prominently baffling thing about the show: Vision being there at all. For anyone unfamiliar, Vision, the all-knowing robot accidentally created in "Avengers: Age of Ultron," is dead. In fact, Wanda Maximoff, his telekenetic romantic interest, is the one who killed him. 
The show starts out by playing the show's 50s Esque theme song, a nod to the fact that the first two episodes take place almost entirely in black and white. When Wanda and Vision first appear, Wanda's wearing a 50s style wedding dress and Vision a black tux. From there it seems like a regular 50s sitcom: Vision gets ready to go to work and Wanda bids him farewell. But when Vision's boss and his wife come over for dinner, neither Vision nor Wanda can remember how or why they'd arrived in the picturesque town of Westview.
View this post on Instagram
However, none of this can truly be happening. As of "Avengers: Endgame," Vision is very much dead, and Wanda quite the opposite. In the films, Wanda gained her telekinetic abilities after she and her now-dead brother, Pietro, were experimented on by the Nazi-run paramilitary organization, HYDRA. HYDRA stemmed Wanda's powers from the Mind Stone, one of the six Infinity Stones. 
In "Avengers: Infinity War", it was revealed that, by using the Infinity Stones, one can physically alter the reality around them. So, one can only assume that Wanda has managed to tap into a power only revealed so far in Marvel Comics: reality warping. It seems that Wanda has used her powers to alter the reality around her to cope with the deaths of her parents, brother, and boyfriend. 
View this post on Instagram
Another thing that left many viewers confused was the sudden commercial breaks taken mid-episode. The first is an ad for a toaster made by none other than Stark Industries, the weapons-manufacturing company founded by Howard Stark. For those unfamiliar, Howard Stark is the father of none other than Tony Stark, otherwise known as Iron Man. This was one of the driving plotlines for "Avengers: Age of Ultron" as it was a Stark Industries bomb that killed Wanda's parents, prompting her and Pietro to take revenge on Tony Stark himself. 
The second ad is for a "Strücker" hand watch. Though spelled differently in the commercial, this seems to refer to Wolfgang von Strucker, the HYDRA researcher who first experimented on Wanda and her brother. It appears that these commercials symbolize a traumatic instance in her life, the first being the death of her parents and the second being the experiments she underwent. If the episodes' commercials continue to follow this chronological order of her trauma, it would be safe to say that the next episode will have a commercial referencing the death of Pietro.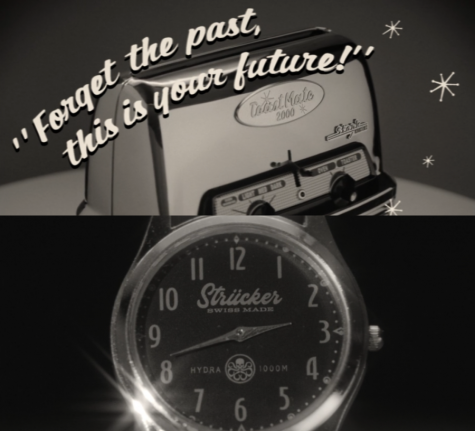 It appears Wanda is in complete control of the reality she and Vision are in. This is only further proven by the fact that Wanda sits down on the couch and, when she stands again, she's pregnant. In the comics, Wanda does in fact become pregnant with two twins, Tommy and Billy.
Additionally, when Wanda and Vision find a mysterious beekeeper crawling out of a sewer, Wanda essentially rewinds their lives to before they saw him. To add to the mystery of the show, the beekeeper has the S.W.O.R.D, an American intelligence agency in the Marvel universe similar to S.H.I.E.L.D, logo on the back of his suit. This same logo was seen on the toy helicopter Wanda discovered in her front yard at the beginning of the episode.
But, with the cracks starting to show in Wanda's reality —the mysterious voice over the radio and the toy helicopter in her yard— it doesn't appear that it will last forever. Judging by the man's voice who calls out for Wanda at the end of each episode, there are still people trying to bring her back down to Earth. Regardless, "WandaVision" has fans around the world hooked for the next seven episodes Disney+ has planned.