"Saturday Night Live" Isn't Funny Anymore…and It's Not the Writers' Fault
May 13, 2021
On May 8., Elon Musk hosted "Saturday Night Live," and it was just as disastrous as people had anticipated. The punch lines in his monologue missed practically every mark and the "Gen Z Hospital" skit was hard to watch for anyone under the age of thirty. 
But was this really a surprise to anyone? SNL hasn't been funny for a decade, ever since the loss of the "silver age" of the show. This so-called silver age boasted comedians like Bill Hader and Andy Samberg, and the Weekend Update was still hosted by Seth Meyers. Sketches like "I Am Your Mother" and characters like Stefon had the audience rolling on the floor. Yet, the most recent seasons have been a massive disappointment for long-time fans. 
It's no secret that the viewership of the late-night comedy show has declined since its debut in 1975. Its viewership reached its peak in the late 1970s and has since dropped by over 20%. 
The "Gen Z Hospital" sketch brings up the question of just who SNL's audience is, and who it actually should be. The most frequent viewers of SNL lie between the ages of 30 and 44, yet their efforts should be targeted at trying to pull in a younger audience. A younger audience is more likely to be active on social media and could stir up a greater attraction for SNL. Yet, their sketches are all targeted at making an older audience laugh and fail to do even that.
SNL's gen z hospital sketch might just be the worst thing I have ever witnessed

unbearable levels of cringe pic.twitter.com/ht3wA71nR3

— KnowNothing (@KnowNothingTV) May 9, 2021
So, who is really to blame for the decline in the engagement of SNL's viewers? Is it the writers? Well, sort of. The co-head writers for SNL are Colin Jost and Michael Che, yet the Weekend Update is the only consistently funny part of the show. Yes, some of the sketches on SNL are abhorrently unfunny (like Che's "Gen Z Hospital"), but with two usually hilarious people like Jost and Che heading them, viewers shouldn't solely blame them. Especially when the fault truly lies with the ancient cast that just won't seem to leave the show. 
A good chunk of the current cast is like a rock stuck inside your shoe: as annoying as it is, and as hard as you try and kick it out, it just won't dislodge. Melissa Villaseñor, Kyle Mooney, Cecily Strong, Alex Moffat, Aidy Bryant, and more collectively are this rock. As much as you just want to enjoy your night, they keep popping up to ruin it.
It's not just the fact that the older cast members are no longer entertaining to watch, it's that they take screen time from the actually funny, newer additions to the cast like Chloe Fineman and Pete Davidson. 
"I think the only funny one left is Pete Davidson," says Eleanor Amoriello ('22), "But he's never on!"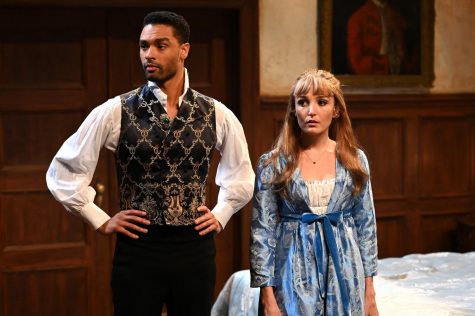 The fact of the matter is that SNL needs to boot the cast members who have been dragging down the show since they started. With the exception of Kate McKinnon and Keenan Thompson, none of the older cast has ever shown any star quality in their sketches. And, if it ever wants to exit the rut it's in, it's time SNL makes way for a new era of cast members.