5 striking looks from the 2023 Grammy awards
February 10, 2023
Every year, pop stars conjure up the most creative looks they can think of to wear to the Grammys. This year, there were many celebrities with unique and extravagant looks that we will take a look at.
As well as being the Peoples Magazine #1 best dressed, Lizzo took home the Grammy for record of the year in this amazing Orange gown covered head to toe in roses.
Lizzo wore this orange robe over a corset dress that she revealed on the red carpet. Her look was detailed from head to toe, down to the orange flower in her hair and her bright orange makeup. As Vogue put it, "Lizzo always fully commits. You can always count on her to spice up the red carpet. Thank god for that!"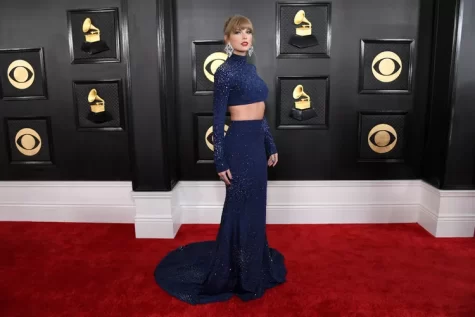 Taylor Swift wore an elegant two-piece dress in a sparkly shade of "midnight blue" to go along with her most recent album, Midnights. Fans were fulfilled by Swift's outfit, and its relation with Midnights, which was by far one of the most popular albums in her fan base.
Taylor accepted the Grammy for the best music video award at this year's awards for her ten-minute music video for her song "All Too Well".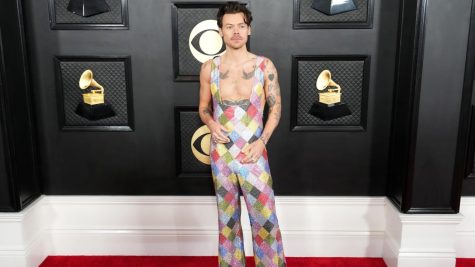 covered in exactly 250,000 Swarovski crystals, Harry Styles took home two Grammy awards: Album of the Year, and Best Pop Vocal Album.
Harry's jumpsuit took over 150 hours to make, featuring nine different shades of crystals. The suit was designed to reveal and accentuate his chest tattoos.
This outfit complimented his past Coachella look where he wore a similar sparkly jumpsuit, and the outfit he wore in his "As It Was" music video.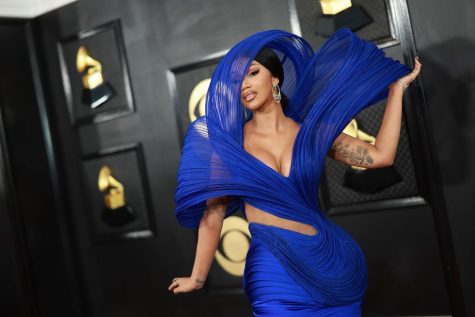 Cardi B's sculpture dress was not only a fan favorite, but it was also a student favorite at Academy. Senior Paige Gonzalez states that Cardi's look was her absolute favorite.
Paige described her look as "out of the box yet still very on-brand for her." Gonzalez says, "I have never seen a dress have the same effect as going over their head and I found it the most striking and unique of the looks."
Another senior. Ellie Benson, says "I really liked the use of vibrant colors and how eccentric her outfit was."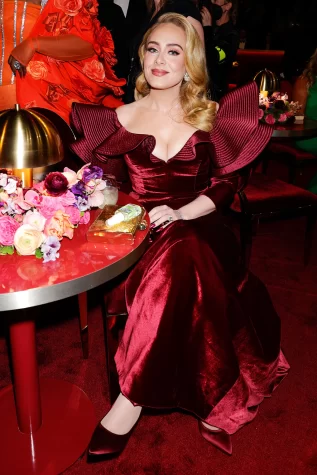 Adele delivered to her fans with her outfit after being labeled by People's Magazine as the top artist on people's "most excited to see" list. Adele was on the top of senior Emma Leavy's "most excited to see" list.
Emma Leavy is a big Adele fan, and described her look as "classy and graceful." She believes that although it wasn't a bold look, it was still eye-catching and memorable.
It is safe to say that star's Grammy outfits are one of the biggest aspects of the event, and definitely determine how much recognition one will get throughout the night.
These five looks are only some of the amazing outfits put together by designers and stars. Hundreds of other celebrities arrived with extraordinary wardrobes that will definitely be memorable for everyone who attended or tuned into the 2023 Grammys.