The Oscar Previews: Expecting Nominations
February 10, 2023
Since May 11, 1927, in Los Angeles, CA, the Academy of Motion Picture Arts and Sciences has held the annual event known as the Oscars to highlight and award artistic and theatrical works. Within the twenty-four categories recognizing achievement in the arts, the most recognized are Best Picture, Best Director, Best Leading Actor, and Best Leading Actress. For the 2022 ceremony, the award show will be broadcast on March 12th this year at the Dolby Theatre in Los Angeles, and many nominees are currently being debated within the film industry. 
In the category of "Best Director," there are five nominees, with one being a collaboration-based nominee. Steven Spielberg, Ruben Östlund, Martin McDonagh, Todd Field, and Daniel Scheinert/Daniel Kwan will all have the opportunity to win Oscar this year in recognition of their works: The Fabelmans, Triangle of Sadness, The Banshees of Inisherin, Tár, and Everything Everywhere All at Once, respectively. Daniel Scheinert and Daniel Kwan are considered the favorites to win for their movie Everything Everywhere All at Once, which is most likely to also win Best Picture for its popularity.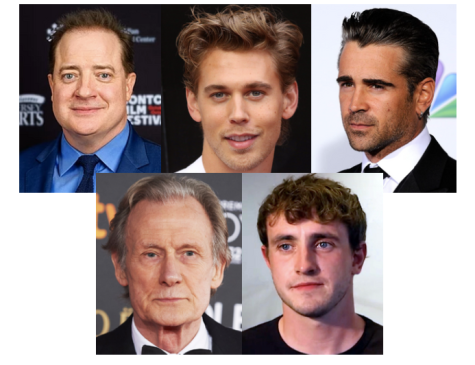 In nominations for Best Actors, there is a range of nominees from Brendan Fraser, Austin Butler, Colin Farrell, Bill Nighy, and Paul Mescal.  Since Austin Butler and Colin Farrell's recently won "Best Actor" at the Golden Globes, it is considered most likely that they have a fair chance of winning the Oscars. Other nominees such as Bill Nighy for Oliver Hermanus' Living and Paul Mescal for Charlotte Wells' Aftersun are strong contenders as well. Considered one of the most surprising is Brendan Fraser being nominated for a non-best picture nominated production The Whale.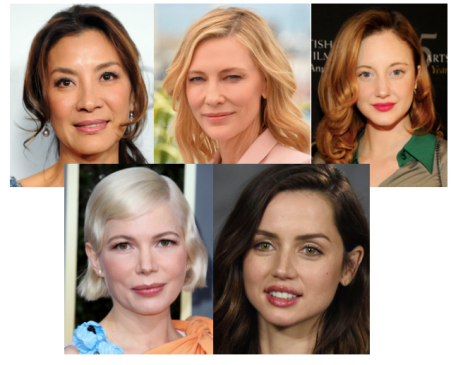 For best Actresses, there are five nominees: Michelle Yeoh, Cate Blanchett, Andrea Riseborough, Ana De Armas, and Michelle Williams are looking forward to potentially reaping their achievements. Leading in Everything Everywhere All At Once, Michelle Yeoh was recognized for her work as the main character Eleanor, and is considered by Variety to be most likely to win Best Actress. However, the category is contentious, and many people believe she will be neck and neck with Cate Blanchett for her work in Tar. However, Riseborough, De Armas, and Williams are still in the running for their work in Leslie, Blonde, and The Fabelmans, respectively.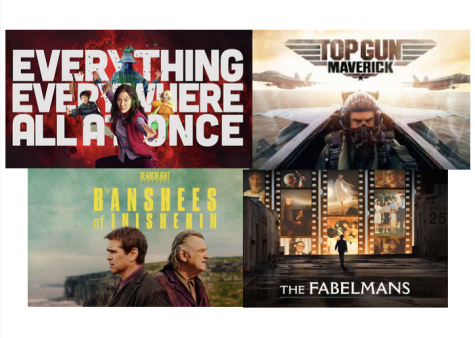 Everything Everywhere All At Once, directed by Daniel Scheinert and Daniel Kwan, has a current 95% rating on rotten tomatoes and is the most predicted to win the Oscars' Best Picture. With leading actress Michelle Yeoh, this sci-fi adventure has curated over $69.5 Million and gained recognition for its comedic plot. Continuing the story of 1986's Top Gun, Top Gun: Maverick (directed by Joseph Kosinski and starring Tom Cruise) is another of the strong nominees for Best Picture. With a current 96% rating on Rotten Tomatoes, Top Gun is being nominated primarily for its visual effects. Directed by Martin McDonagh and led by actor Colin Farrell, The Banshees of Inisherin, currently rated 97% on rotten tomatoes, is a rated R comedy/drama nominated for the Oscars due to its emotional realism. The Fabelmans (directed by Steven Spielberg and starring Gabriel LaBelle) is one of the final nominations for Best Picture and is recognized as one of Spielberg's greatest projects.
In relevance, for those interested in viewing the Oscars and having an experience similar to celebrities, the Tampa Theater is hosting an event called "Hollywood Awards Night." Tickets range from $20-$150, based on the level of experience attendees want for the night. Viewers can enjoy a red carpet reception, refreshments, and game amenities, and ABC's live coverage of the official Oscars.