SZA begins "SOS" arena tour
March 15, 2023
Five years after her album "Ctrl" was released, SZA released her long-awaited third album this past December called SOS. This album combines the art of an inner monologue within the songs alongside heart-wrenching emotions throughout the album. After the album took over social media, SZA has recently embarked on her first-ever arena tour that many fans are dying to see. 
SZA's tour of the SOS album began on February 21 in Columbus, Ohio. With a massive crowd, she played an amazing set list incorporating most hit songs from her new album and some of the fan favorites from her older record "Ctrl."
"I have never been a SZA fan until the past few months. I saw everyone was raving about this new album and once I started listening to it, I could not stop. I am now a full heartedly SZA fan and love her music so much," said Alana Young ('23). 
This tour has been all over social media due to its creative interpretation of the album's concept of a shipwreck. SZA is such a well-rounded and universally loved artist, and because she has not been performing for the last five or so years, this tour has been on every fan and celebrity's mind. 
View this post on Instagram
She has even brought out some special guests at some of the shows so far, such as Phoebe Bridgers, Cardi B, and Summer Walker. All of these artists have some sort of a feature on a song with SZA, as Phoebe Bridgers is featured on "Ghost in the Machine" on the "SOS",  Summer Walker and Cardi B are featured with SZA in "No Love" on Walker's album. When she brought each of these artists out, they sang the songs together and it truly looked like a never-forgettable moment for all the people in the audience.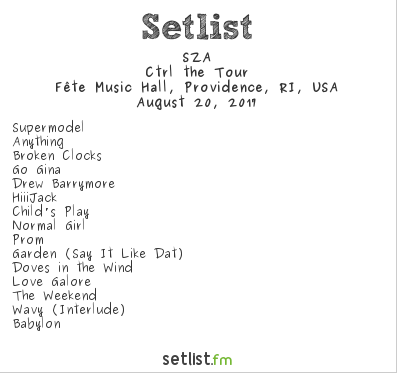 "I absolutely adore Summer and Walker and SZA. I saw on Tiktok that she made a special guest appearance and I seriously have never been so jealous of an audience in my life. I would do anything to see the both of them sing together," said Maggie Smith ('23). 
Unfortunately, one of the show dates in this arena tour has been postponed all the way into 2025. As expected, many of the fans who have waited to see her perform are very disappointed about this, especially when there was no reason released for the delayed date being rescheduled. The show that has been postponed was in Philadelphia, Pennsylvania and it was supposed to take place at the Wells Fargo Center. Fans have been told to hold on to their tickets, as they can still attend the show in a couple of years.
So SZA postponed my Philly show to 2025…. Then today brings out CARDI???????? 😨😨 pic.twitter.com/wdxiZJw5iq

— Amani (@amanialexandor) March 5, 2023
Despite the slight disappointment of one of the shows being delayed, the tour seems to be a massive success so far. SZA has about 6 shows left and, to no surprise, they are all sold out. Seeing her performances on social media has only escalated everybody's obsession with this incredible artist, and it will be interesting to see how she continues to excel after this tour.