Get inspired with Carly Stagg
Academy of the Holy Names is filled with unique students who thrive in academics, creativity, and passion. To help celebrate our many talented students, Achona will be doing student features enabling readers to get know their Academy sisters better. This week's student feature is senior, Carly Stagg.
The second of the National Merit Semi- finalist, Carly Stagg, has already proven herself an excellent student in acdemics and in student organizations. She, has been seen in action through service and leadership on mission trips, at Faith Children's home, and in various community service. In addition to this, Carly has demonstrated stregnth in her ability to adapt to the stresses of senior year, along with a road block no one expected.
One of the many things Carly spends her time doing is embracing the Academy mission through service. Since freshman year, Carly has participated in Faith Children's home, where she actively talks and works with children. In addition, Carly is a missionary for the Mississippi Mission Trip. She joined sophomore year and acted as a leader junior year. As leader, Carly ensured the remodeling of homes in Mississippi were done in the best way possible.
Outside of school, Carly volunteers for the Ronald McDonald House, an organization that is responsible for cooking for those in the hospital or those in tough situations. Having been an active member, Carly is in charge of her committee and makes sure enough food is made and delivered to the designated location.
One of Carly's favorite things to do is sing. "I've been singing since I was eight, once my voice teacher invited me to sing a duet with her at an opera concert (The Flower Duet from Lakmé). Ever since, I've been hooked!"
As a sophomore, Carly joined Quarter Notes, which allowed her to sing at Mass and other school events.  She also joined Worship Band, and served as Vice President last year. Unfortunately, Carly shared she has recently had to take a break from singing for her health.
For the past six months, Carly has suffered from chronic fatigue syndrome and polymyositis which causes exhaustion and muscle ache. Essentially, Carly must rest 12+ hours a day, and because her throat is sore and swollen, she has not been able to sing.
" It was hard for me to admit that singing is just not the best thing for my body at this point, because it gives me so much joy, but I had to."
Not only has Carly learned to live with her illness but she has had type 1 diabetes for almost 6 years. Carly's positive outlook on life has not only inspired students to persevere through difficult times, but they have come to admire Carly's strength.
"I am definitely a fighter- I will be singing again soon".
To relax,  Carly loves reading and cooking in addition to singing. Her favorite books include The Hunger Games Series, The Help, and classics such as The Giver. Carly is also a TV addict, "My favorite show at the moment is New Girl".
So, if you see Carly Stagg in the hallways at school be sure to congratulate her on all her hard work and wish her luck as a National Merit Semifinalist.
About the Contributor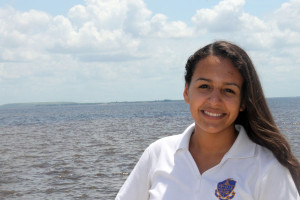 Mikela Mollanazar, Multimedia Editor
Mikela Mollanazar has been on staff for three years now, and her current position is Multimedia Editior. She enjoys spending her time creatively, either...