Finding Healthy Options at Unhealthy Restaurants
September 30, 2016
In the age of convenience, it can be easy to get caught up in the whirlwind of everyday life. As a result, there are more fast food restaurants popping up. Most meals served at these restaurants are categorized as unhealthy since they promote convenience instead of nutrition. Can any of these restaurants provide healthier options at the same fast pace that people expect?
According to a Yahoo Finance article, a few unhealthy restaurant options include Wendy's, Academy's beloved Chick-Fil-A, Outback Steakhouse, Burgerfi, and McDonald's.
Each restaurant is known for popular meals that are hailed unhealthy. From Outback's Bloomin Onion to Chick-Fil-A's Chicken Minis, there has to be a way around these foods that have no nutritional value.
Senior Marie Dela Cruz adds, "I get why fast food places are introducing healthy food, but I wouldn't get anything healthy because I only go to fast food places when I actually want to eat unhealthy."
Though there are only a few, Wendy's offers healthier options to their consumers. Mostly known for their french fries and Frosty's, Wendy's is now offering more options for the consumer seeking a quick, inexpensive, and nutritious meal. The first option is the Power Mediterranean Chicken Salad which is followed by their Grilled Chicken Wrap.

Arguably Academy girls' favorite fast food restaurant, Chick-Fil-A, also offers a few options for the on-the-go consumer in seek of more nutritious meals. The classic Chick-Fil-A chicken sandwich actually makes it on this list, which may come as a surprise since most delicious meals are unhealthy, but not this one. Complete with only a few ingredients including fresh chicken, this sandwich makes itself a popular option for anyone looking for fast food without having to sacrifice taste. Along with the chicken sandwich, Chick-Fil-A offers a Grilled Market Salad, which beats out the chicken sandwich in nutritional value.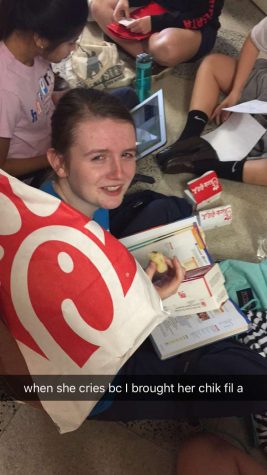 Next on the list of restaurants is Outback Steakhouse, a more upscale unhealthy restaurant. Outback has several dinner and lunch options that are just as delicious, and definitely more nutritious than their Bloomin' Onion. The 7 oz. Grilled Salmon is a super healthy option for anyone who loves to substitute meat with  fish. If fish isn't a favorite, Outback offers Parmesan-Herb Crusted Chicken as another healthy dinner complete with fresh vegetables.

Burgerfi is a hit within the Tampa Bay area and is known for its greasy, delicious cheeseburgers. Contrary to popular belief, there is a way to enjoy a meal at Burgerfi without splurging on a 1,500 calorie burger. Their Vegefi Burger is an amazing option for vegetarians and people looking for a healthier burger because it still allows for the consumer to enjoy a burger, even if the ingredients are a little different. Burgerfi also offers a New York Style Beef Dog which is healthier than it sounds since it's made out of 100% Vienna beef.
Sophomore Riley Kayton comments, "when I go to Burgerfi I always get the classic cheeseburger, but I'd totally try the healthier options too."

Last but not least, the king of all fast food chains, McDonald's. Notorious  for its french fries and cheeseburgers, McDonald's offers several healthier options in an attempt to allow consumers to enjoy healthier food choices. The first is their Artisan Grilled Chicken Sandwich which isn't well known but highly acclaimed by those who are aware of it. Following this sandwich is the Bacon Ranch Salad with Buttermilk Crispy Chicken, a fresh salad option among the variety of cheeseburgers.

Whether consumers are on the hunt for quick and healthy food, or just craving that classic cheeseburger, fast food restaurants are looking to expand their menu and customer base. All these options are nutritious and delicious, so don't be afraid to give them a try when stopping by a fast food restaurant.