Asolo Theatre Performs Rendition of "Hamlet" to Academy
October 18, 2016
On Monday October 17, Florida State University's Asolo Repertory Theatre came to AHN again this year with a performance of the Shakespeare play The Tragedy of Hamlet. Asolo is well known for taking classic plays and putting a modern-day twist on them by incorporating popular songs into the shows. In past years, Asolo has performed versions of Twelfth Night, A Midsummer Night's Dream, and Romeo and Juliet for the students of AHN.
Asolo Repertory Theatre Presents Touring Production of THE TRAGEDY OF HAMLET… https://t.co/WUVuVb6qQ5

— BWW Florida (@BWW_Florida) August 25, 2016
In a nutshell, The Tragedy of Hamlet is about the main character Hamlet, the Prince of Denmark, who comes home from college to attend his father's funeral. He quickly discovers that his mother has remarried his uncle, Claudius, and Hamlet becomes suspicious. His father's ghost appears to Hamlet informing him that his brother brutally murdered him in order to gain the crown. Hamlet goes insane trying to avenge his father's death and ends up hurting the ones closest to him.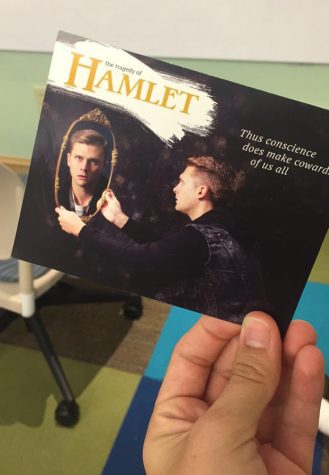 The production made several adaptations from the original play such as combining the two characters of Rosencrantz and Guildenstern, usually the comic relief, into one female character of Rosenstern. They also distributed Hamlet's famous "To Be or Not To Be" soliloquy which is originally recited once, in this performance the soliloquy was mentioned by several characters throughout the play to emphasize its importance. The production also incorporated the songs "Cold Water" by Major Lazer ft. Justin Bieber and MØ, "Don't Let Me Down" by The Chainsmokers ft. Daya, and "Smile" by Nat King Cole into the performance. The actors shared that they incorporated modern music into their production because in Shakespearean times Shakespeare incorporated songs that would be familiar to the audience.
The only props the cast used were a ladder, a chest, and different costumes the actors changed in and out of.
Senior and AHN Thespian, Rachel Tata states, "I loved their costuming, staging and how minimal that was. It complemented the performance and its modernity, even though it was Shakespeare. My favorite part was when the actor playing Hamlet climbed up the ladder and recited the first part of the famous 'To Be or Not to Be' monologue standing on one foot, balancing. It was something so different and powerful."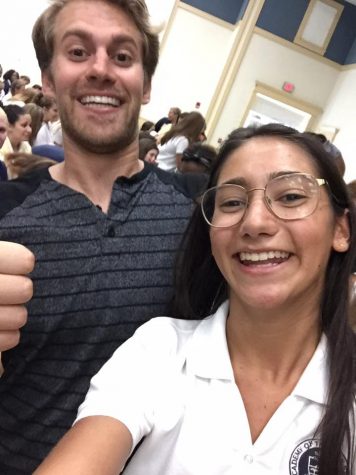 Senior and President of Thespians at AHN Emily Hoerbelt shares her plans to pursue acting after high school stating, "FSU is one of my top choices for college so I've definitely shown interest in the Asolo Conservatory.  I'm actually auditioning for FSU's musical theatre program so if I don't get into that I might look into Asolo and possibly audition for that."
Asolo's third-year theatre students from FSU will be touring all around the state of Florida performing to high schools until November 22.