How To Have a Free Weekend
November 15, 2016
Tampa can be an expensive city, especially on the weekends. The choices of events with which to jam-pack Saturday and Sunday are nearly endless, but sometimes the costs can add up. Here is an itinerary for a completely free day of fun in Tampa.
---
7:30am – Wake up.
Motivation is key for early rising on a weekend. There is nothing more tempting than hitting the snooze and resigning to a lazy day, so put on a playlist of upbeat tunes to energize the morning and get out of the house.
https://open.spotify.com/user/spotify/playlist/0186RkeoJsHWEQy0ssDAus
Planning a delicious breakfast is another incentive to roll out of bed. Check out these easy recipes that will make a morning alarm sound like an golden melody.
---
8:00am – Stop by Sur la Table in Hyde Park for a free coffee of your choice.
Sur la Table sells Nespesso coffee makers and has an employee who works in the coffee section specifically to allow customers to try free samples made from the machine.
---
8:30am – Volunteer at Trinity Cafe.
Trinity Cafe has locations at 2801 N. Nebraska Avenue and 2202 E. Busch Boulevard. Trinity allows you to serve meals to members of the community who are in need. All volunteers receive a free meal as well. All you have to do is visit their website and sign up.
Senior Ally Pazzi volunteers at Trinity Cafe often through her participation in Mayor's Youth Corps. She reflects that people can often forget that the needy and homeless are individuals just like everyone else. She enjoys sitting down for a meal with them and chatting.
She remarks, "At the core of everything, it's people helping people."
---
11:00am – Go Geocaching in Curtis Hixon. (Use downtown's free parking.)
Simply put, Geocaching is a scavenger hunt. There are millions of hidden treasures to discover worldwide. All that is required is an account on their app, which, using GPS, will lead you to spots to uncover what other people have hidden. Then you can swap out what is there with something you want to leave behind and continue on your adventure.
---
12:30pm – Head to Microgroove in Seminole Heights
Microgroove is an independent record store that has free CDs for the taking every day. If your car is still equipped with a CD player, it is the perfect free perk to revamp your drives.
---
1:00pm – Go to a local farmer's market and score some free samples.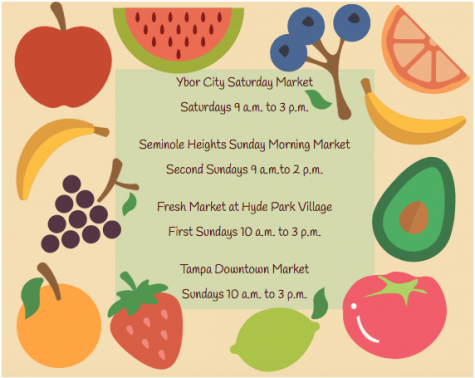 ---
3:00pm – Go to free Teen Book Club at Oxford Exchange
Teen book club takes place on the last Sunday of every month upstairs in the Hayek room at 3:00pm. Rent the book from the library to save money. Enjoy thoughtful conversation and free tea and snacks from the Oxford kitchen.
---
4:00pm – Go to Florida Craft Art Museum at 501 Central Avenue in St. Petersburg.
Admission to this museum is completely free, and they have a rotation of exhibits that displays textiles, jewelry, and other crafts made by Florida artists.
---
5:00pm – Play a game of chess at the Blind Tiger Cafe at 1901 East 7th Avenue in Ybor City.
The atmosphere at Blind Tiger is quiet and studious; the perfect environment to get a little homework done or finally learn what checkmate actually means. Be sure to return on the fourth Friday night of the month to attend the only teen open mic night in Tampa, all for the low, low price of zero dollars. 
https://www.instagram.com/p/BMJ6Q4ghTp5/?taken-at=1020179683&hl=en
---
6:00pm – Yoga at Curtis Hixon from 6:00pm to 7:00pm every Sunday.
No experience is necessary to participate in this outdoor yoga class, and no sign up is required. Just pick a day, and be brave.
---
7:00pm – Go home and have dinner with you family.
What entity is the ultimate provider of free stuff? Family! And all they ask for in exchange is a little quality time. With this itinerary there will be plenty of adventures to recount over the dinner table, and it will be even better bragging about how it did not cost a dime.