Credit: Anna Padron/Achona Online
Hyde Park Ushers in November with Monthly Festival
November 16, 2016
Ahhh the warm smell of fresh baked bread, the crisp November air, and the delight of new people are just a few trinkets at Hyde Park's monthly festival. The festival takes place on the first Sunday of every month, with November's festival taking place on November 6. Organized by the Hyde Park board, the festival typically hosts approximately 50-70 street vendors with items from food and drinks to fun gifts and gadgets. Festivals like this are common especially in the fall and winter months when the Florida weather is at its peak.
The fresh food seen at the festival was delicious and diverse, to say the least.
Sophomore Mackenzie Ker exclaims, "This was my first time ever going to the festival and I really enjoyed it. I bought a lot of food related items like popcorn, donuts, and muffins."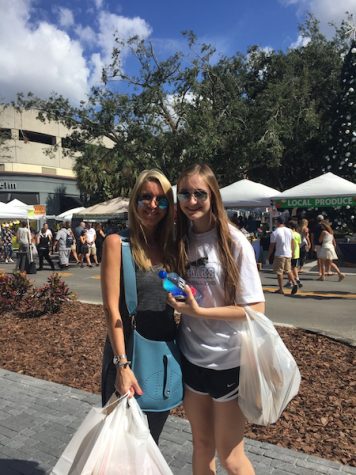 Highlights to the wide variety of food include a popcorn vendor with pumpkin pie popcorn, a popsicle stand,a grilled cheese bus and an authentic Mexican stand with fresh tamales.
After shopping at a variety of booths Ker confessed, "The unique thing that I found was this chili popcorn. I thought it was going to be super spicy, but it wasn't."
To satisfy a sweet tooth, the festival has a crepe food truck with fresh Nutella and fruit, and a Belgian waffle stand.
Along with the many sweet items, there were also a variety of health options selling vegan snacks and fresh smoothies.
Festivals provide the perfect place to find a great gift as Christmas is nearby! Purchasing a unique item from a place such as a festival will add value and personalization to the gift. Many of the items for sale are reasonable in price and one-of-a-kind.
At the festival are several jewelry vendors, each with a different style of jewelry. One booth features jewelry with large stones such as amethyst, with pieces mirroring jewelry from Kendra Scott, for more of a preppy look.  For boho shoppers, there were several booths that have collections inspired by Native American culture with large turquoise stones and silver metals. Along with jewelry, there was also an array of other trinkets for sale.
A booth called Hippie's Homemade Candles features homemade candles in different shapes, sizes, and scents. Many of the candles were holiday scented which is perfect for the holiday season.
Junior and avid festival goer, Haley Palumbo shares, "The candles all smell so good, but my favorite is Teakwood because it smells like Abercrombie and Fitch."
Another popular booth is run by a craftsman from Seminole Heights, specializing in metal statues, trinkets, and keychains. The popular keychains sell for only five dollars and feature popular sayings such as "Carpe Diem" and "Life is Good".
In addition to all of the "people items," there was also a multitude of booths for canine companions. Dog lovers had the opportunity to purchase customized bandanas, organic dog treats, and dog characters. Dogs of all sizes were able to enjoy the festival with their owners.
Trips to festivals like these serve as an enlightening thing to do with girlfriends or family members, while also reminding people that through the daily hustle and bustle, fun adventures do exist.
To conclude Palumbo shares, "The Hyde Park market is one of my favorite events in Tampa. I love its uniqueness. My favorite vendor is hands down the Thai market! They have the best vegetable curry ever."
Want to experience a Hyde Park Festival first hand? The next festival takes place on Sunday, December 3.