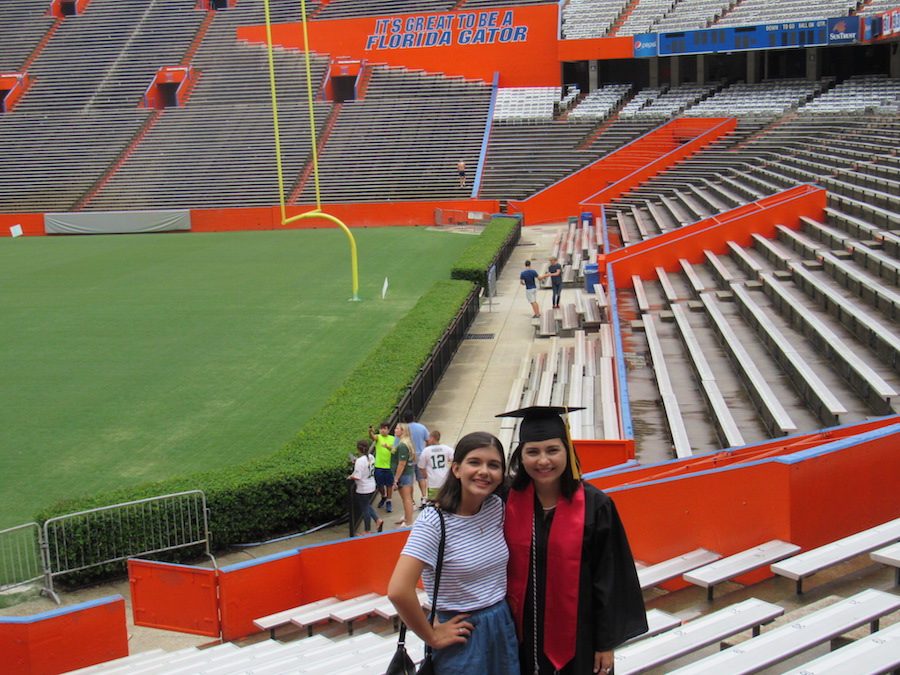 Alumni Share Wisdom After Leaving AHN for Large Universities
January 11, 2017
Leaving home and heading for a massive university is already intimidating enough, and coming from a small high school can make the future even scarier. Small private high schools, like Academy, create a comfortable and safe environment. A major university may not include the same luxuries. Many students who spend four years at a small high school also attended small middle and elementary schools, which means the transition to a large public university is a new and different experience. Often Academy students find themselves directed towards immense state schools and may be hesitant because of the unfamiliar territory, thankfully their previous sisters are here to share their own experiences to guide them.
Achona Online: Where do you/did you go to college?
Camila Garcia (AHN c/o 2015): "I go to the University of South Florida or USF."
Ciara Alvarez (AHN c/o 2012): "University of Florida"
Karlee Nipper (AHN c/o 2016): "Auburn University"
Achona: How long did it take you to get comfortable with your new school?
Garcia: "Honestly, I think it took me about two full semesters. It took that long to start getting the hang of school, friends, and school work. In a way, a lot of it was trial and error."
Alvarez: "I became more comfortable when I joined a hospital volunteer program called Streetlight in May of my sophomore year. In all honesty, I was never really that comfortable there, but that program made my time there much better."
Nipper: "A full first semester. Everything was new and navigating the steps of the semester was really important, but now I'm settled in and comfortable because I know what to expect."
Achona: Was making friends hard coming from a small school or was it easy?
Alvarez: "I don't think that it was difficult making friends. I definitely made friends that will last a lifetime at UF. It was different than making friends at AHN though. Academy was definitely its own little bubble. At UF, I was surrounded by tons of people from so many different backgrounds. If you're looking to make friends similar to you with the same types of values, it can be a tad more difficult to find those people at a large school."
Nipper: "It really wasn't at all. My random roommate is actually my best friend now. You just have to put yourself out there and be open to being friends with anyone because people will surprise you."
Achona: How did you branch out and find your place in such a large university, or what will you do to branch out?
Alvarez: "It can be difficult to find your place at such a large university. I wish I had looked into more groups when I first started. There are SO MANY options. I think most girls from AHN join a sorority thinking that it's the only option. I am glad I joined one, but that definitely didn't give me my place at UF. A fellow AHN alumnus told me about Streetlight during my sophomore year. It is a palliative care program for teens and young adults living with chronic and terminal illnesses. That was my place at UF."
Nipper: "I first rushed for a sorority, which was one week before school actually started, and that helped a lot because I got to know so many people before classes even began. I also started actually talking to people in my classes (a lot of people don't do this and I'm not sure why) but some of my great friends have come from striking up a conversation before the lecture started. Finally, if your academics can afford it- always say yes to a new adventure or social activity because that's one of the best ways to branch out."
Achona: What would you say is the best part about a large college and what is the worst part?
Garcia: "The best part about being at a large college is that there is so much diversity. There are people from all over this world attending USF and it's really an enriching experience learning from them. Also, from a business standpoint, since there are so many students and staff members, the connections are endless. On the other hand, the worst part since it is such a big school is making your mark or letting your voice be heard."
Alvarez: "The best part of a large college is the many opportunities available. I was so lucky to have a major research hospital on campus, which gave me the opportunity to conduct diabetes research and participate in a program like Streetlight. The worst part about a large college is that you are actually a number. I had 100-300 people in almost all of my classes, even in my last semester upper-level classes. There is not any individualized teaching. My professors didn't know me unless I went into office hours multiple times."
Achona: Do big class sizes make it harder to learn and succeed in the classroom?
Garcia: "I think it can be hard, but only if you let it be. You have to make the effort. You have to be willing to not sit next to a friend, sit in front and participate more often. It is what you make it."
Alvarez: "YES! This is especially true in science and math classes. I honestly think it jeopardizes the ability of a professor to teach well with such large classes because he or she loses the chance to provide individualized teaching. My successes came from self-teaching, attending office hours on my own time, and having outside tutors. I had to take a lot of extra steps to learn and succeed in my classes. It was extremely different from AHN and it took quite a long time for me to figure out. That was the most difficult adjustment in my opinion. What worked in high school definitely did not work for me in college.
Nipper: " Don't sit in the back because you'll be able to feel actually how big the class is. It's best to sit in the front because the classroom will feel a lot smaller and you'll be closer to the teacher and it'll make it a lot more comfortable! Kind of equate it to a seat at a concert, its a way better experience if you're in the first or second row than in the nosebleed seats"
Achona: If you could go back to being a high school senior would you still choose the college you are/were at and why?
Garcia: "Of course! 100 percent! I love that at USF, I still can be independent while also having the comfort of being close to home. I am very much a family person, and I don't know what I would do if I weren't close by."
Alvarez: "I think about this question often because I think my transition would have been easier at a smaller school. I always wonder if I would have been happier or succeeded more at a different school. On that note, I don't think I would have changed my decision to go to UF. I definitely did not like the school itself, but I loved the experiences I had along the way."
Nipper: "Absolutely, I don't see myself any other place in the world right now. I'm definitely where I'm supposed to be."
Achona: To all seniors making the decision between a small college and a large one, what would you say to them?
Garcia: "I think it's totally up to them. My biggest piece of advice is to do your research! Do not get caught up on thinking about which college has the best football team or what college is the most popular. You need to look for a college that will suit your needs and nobody else's!"
Alvarez: "College is going to be a big transition whether or not you go to a small school or a large school. It is not going to be easy, but it's something that anyone who has gone to college experiences. Always make sure to ask for help if you need it, whether it's from family, friends, or professors and administration. There are people at home and at any school that wants to make that transition easier, you just have to do your part by reaching out. When you're making that decision, try to really listen to yourself to best understand what environment will be best. Most importantly, try not to be blinded by what other people put on social media about their college experiences. People only share good aspects and fun pictures. Football games and social events are not the centers of any college experience."
Nipper: "I'd say it depends completely on their emotional readiness for college and just what they like personally. Some people love knowing everyone's name and face, but I love knowing I could have a new friend just around the corner. Everyone's different and just evaluate who you are and how you fit in that school and ask yourself if that environment is going to help you thrive or not."
While heading to a large college can be a challenge, it can also be a world of many new experiences and chances for students to branch out past their comfort zone. Whether it's through greek life, educational programs, or just living on campus, Academy girls will find a place at massive universities. Remember there are always alumni nearby willing to help and to offer advice.