Celebrity Encounters with AHN Students
February 22, 2017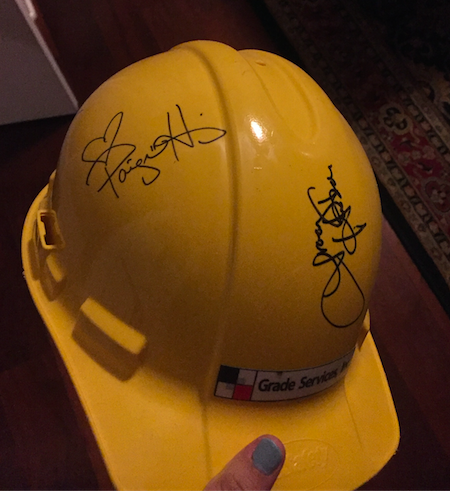 Sometimes when AHN students are traveling, eating out at restaurants, or even just going on with their daily lives, they run into celebrities, ranging from singers to reality TV stars. Not only do some students have photos documenting the incredible encounter, but some hold memorable stories that they will never forget.
Flo Rida
Senior Mary Kate Urbanski was with some friends when they went to the National Championship concert series and got Pit tickets for Flo Rida. While at the concert, they met one of Flo Rida's managers who gave them the opportunity to go backstage and meet singer. While the girls were backstage, they noticed Jay Pharaoh, a Saturday Night Live veteran. After talking to Pharaoh, he ended up retweeting senior Emily Orama and Brittany Bramwell's iconic SNL video where they begged for tickets.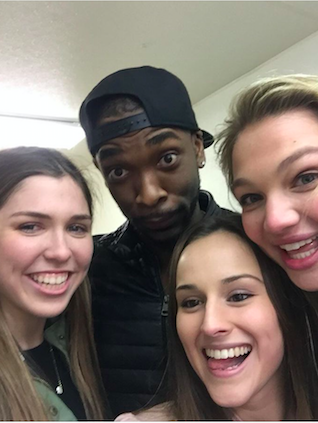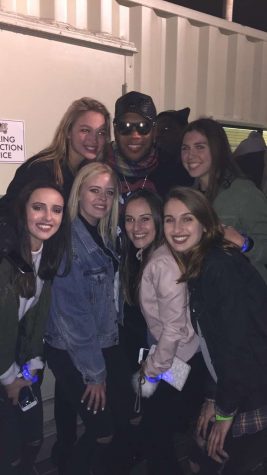 Camila Cabello
Senior Audrey Anello has had a fair share of celebrity encounters, saying, "I was backstage with Gabi Vivero [Class of 2016] at Jingle Ball in December so we saw a bunch of the perfomers. We had staff tickets, not backstage passes, so we had to pretend like we were used to being around celebrities; which basically meant not freaking out. Pitbull, Martin Garrix, and Joe Jonas were just casually walking around backstage, but their bodyguards would never leave their side so it was hard to actually talk to them. After the show, Fifth Harmony left their dressing rooms, but Camila Cabello wasn't with them which was super weird. She came out like 15 minutes later in her pajamas with her guitar strapped to her back walking with her mom. She was saying bye to a bunch of staff members and since I had a staff ticket, I was standing with them and I kinda think she could tell I was a little starstruck. I'm not a fan of Fifth Harmony, but I like Camila Cabello ever since she did that song with Shawn Mendes. Anyways, she walked up to me and said "Hey girl! Let's take a selfie!" I was hesitant just because usually the fan is the person to ask for the picture."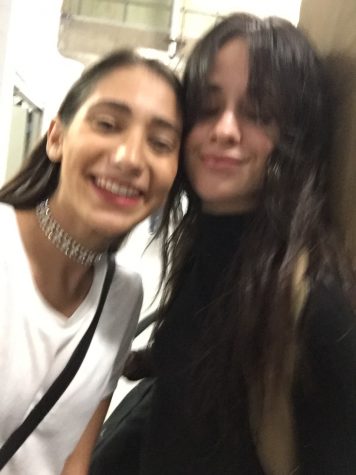 Drake
Senior Liz Benjamin had an encounter with rapper, Drake, and says, "After his concert in Tampa, Drake and his friends reserved my parents bar. It was super last minute so after work I changed into an outfit the waitresses would wear. My mom's friends and I stood off to the side and pretended to be waitresses and waiters. He would come up to us and ask for drinks but since we couldn't make any we would just go tell the bartenders and get it from them. Towards the end of the night he came up to ask for water and we all raced to get it for him. I got it to him first and he said "thanks."
Patrick Dempsey
Senior Carly Fisher and her mom have participated in the Dempsey Challenge 5k for three years, which is sponsored by actor Patrick Dempsey. For the past two years, Fisher, her cousins, and her mom have gone and waited in the hotel where Dempsey stays to get a photo and meet the former Grey's Anatomy star.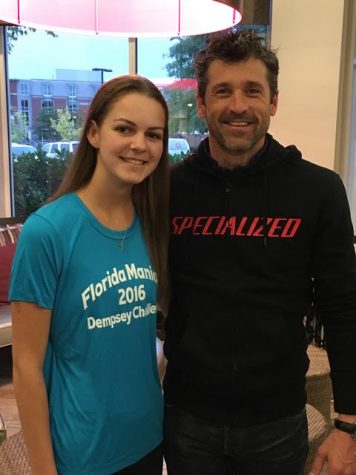 Jonas Brothers
Senior Ashley Achin says, "When I met the Jonas Brothers I was with Samantha Stagg, Julia Prince, and a few other girls. I want to say it was third grade and we went to the Hannah Montana Concert and they were performing. When we met them I was literally awestruck. Joe Jonas put his hand on my left shoulder and I pretty much fell in love with him."
Tampa Bay Lightening
Senior and Tampa Bay Lightening fanatic Jenna Wiley has met JT Brown, Vasilevskiy, Tyler Johnson, Brayden Coburn, Anton Stralman, Victor Hedman, Brian Boyle, Slater Koekoek, Ondrej Palat, Luke Witkowski, Adam Wilcox, Matt Taormina, Mike Blunden, Alex Killorn, Vladislav Namestinkov.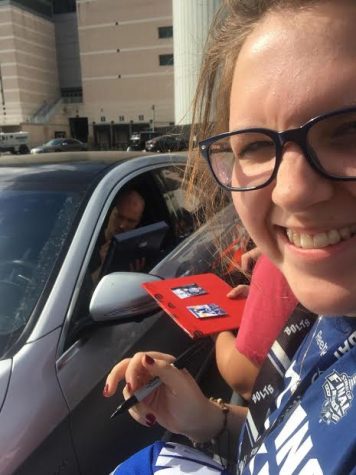 Cameron Diaz
Senior Katherine Garcia, who has met Cameron Diaz, says, "My family used to go to Anna Maria Island every single year for Fourth of July. Cameron Diaz has family that lives in Tampa and her aunt actually used to teach my brothers at Jesuit so every single year she would also go to Anna Maria Island with her family. She would get this huge mansion right near the beach house we would get, so our tents would be set up really close to each other on the beach, so two different years my cousins and I went up and met her. She shook our hand and talked to us for a little, but she said she couldn't take pictures because then she would be sitting out all day taking pictures. She was really nice though."
Fitz and the Tantrums and Riff Raff
Senior Samantha Stagg met Fitz and the Tantrums at Coachella during a meet and greet. Stagg also met Night Riots twice while at Big Guava and 97X Backyard Barbecue. Former Academy student Lexi Yob and Stagg also met Riff Raff at a meet and greet.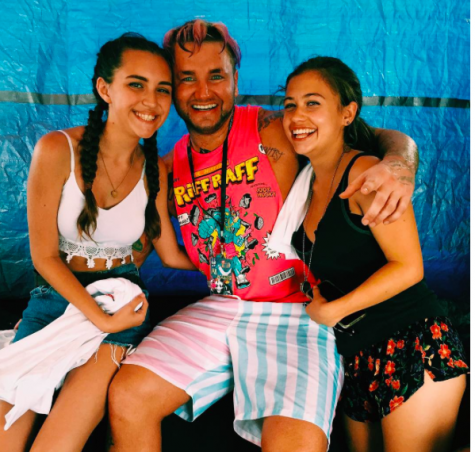 Taylor Caniff
Shannon Flaharty and Kate Scanlan both had the opportunity to meet the internet sensation, Taylor Caniff, and both had interesting stories.
Flaharty says, "We met him twice on his RV Airheads tour and after the second one we got in a car chase with him and Kate [Scanlan], Lexi [Yob], Emily [Orama], and Samantha [Stagg] and it was raining, pitch black outside and actually so intense; literally like you see in movies, we were speeding and swerving so bad because they were trying to lose us, but we literally followed them for like 30 minutes and at one point they got behind Lexi's car and trapped them in a parking lot and threw stuff at their car."
Scanlan says, "We had heard that Taylor Caniff was coming to Airheads in Tampa in February of Sophomore year and we couldn't pass up the opportunity of meeting the Vine sensation. We arrived to Airheads and there was a line wrapped around the building to meet him. Since we had to wait three hours, we decided to entertain the girls by dancing in the middle of the parking lot, along with fellow classmates Shannon Flaharty and Grace Neal, to his hit song, "Buckwild." Once we finally got inside we were freaking out and we couldn't believe we were meeting him. We started singing his songs to him and he started laughing. It was such a crazy experience that I'll never forget."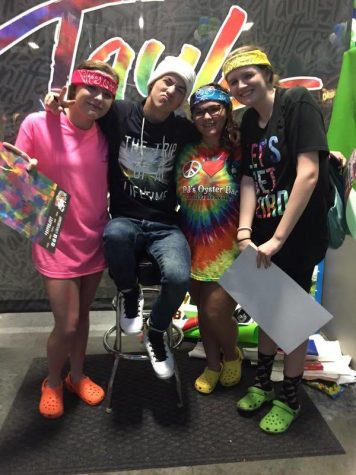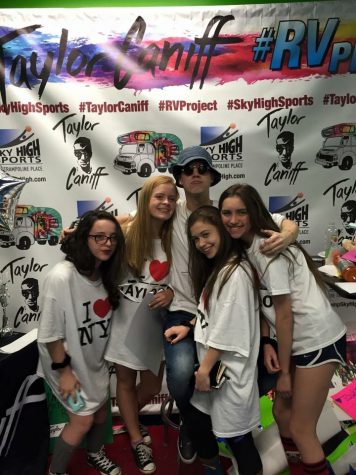 Peter Madrigal
Bella Guerra met Peter Madrigal from the Bravo series, "Vanderpump Rules," which is a reality TV show about waiters and waitresses that work at the restaurant SUR in L.A.
"We went specifically to meet the people on the show and he was the only one working. We were really scared to ask for a picture and he kept walking past us, so eventually we asked for a one and he was super nice about it. We also heard him telling other people at the restaurant what was going to happen on the next season it was pretty cool."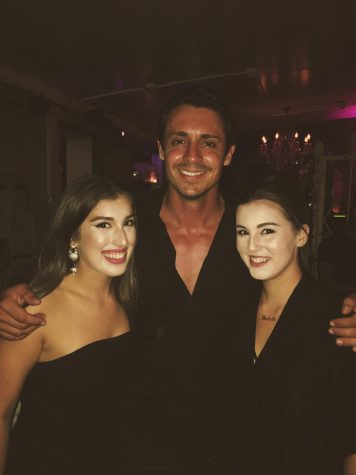 Migos, Takeoff, and Quavo
Junior Evan Greek says, "My friends and I were coming back from a group trip to Greece, and we had a connecting flight in Atlanta. We were walking back from getting dinner at the food court and one of my friends saw Quavo walking out of the bathroom so we turned around and ran towards them. Once we got to where they were sitting it was just Quavo, Takeoff, and their producer and we asked to take a picture with all of them. They told us that they had just visited Offset in jail and they were going to New York. Migos didn't want us to post any pictures until their flight took off."