HOA: Addison Diaz Sweeps at the Interscholastic Equestrian Association Region Finals
February 23, 2017
Often times when people hear of high school sports their minds immediately jump to sports such as volleyball and basketball. For senior Addison Diaz, the first thought is equestrian. Diaz has been riding horses since she was five years old. She has sacrificed much of her time in order to perfect her trade and has been captain of her team for the last two years, leading them to countless victories throughout the season. Two weeks ago the equestrian led her team to the Interscholastic Equestrian Association Region Finals where they emerged victorious. Achona was able to sit down with Diaz and learn more about her sport and recent region win.
Achona: How long have you been riding?
Diaz: "I've been riding for somewhere between 11-12 years. I've been showing on the "A" circuit for about five years and I started showing in the Interscholastic Equestrian Association freshman year. My IEA team has been active for five years and the last two years I have been team captain."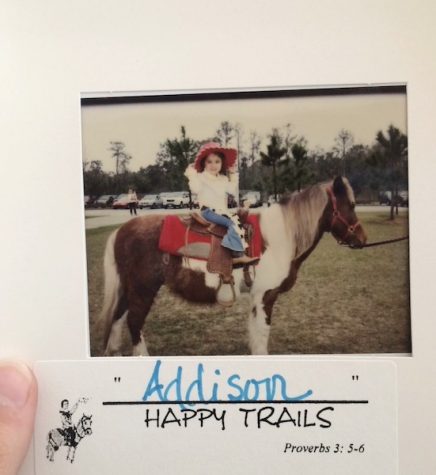 A: What makes the Interscholastic Equestrian Association competition different?
D: "At a normal competition, I would bring my own horse who I practice on at home. At IEA, each of the team brings a few horses and at the start of each competition, horses are randomly picked out of a hat and assigned. I get two warm up jumps to get familiar with my horse before I have to show. IEA is designed like it's college equivalent IHSA and is supposed to prepare middle and high school students for collegiate level riding. IEA tests a rider's ability to quickly adjust to any horse and ride whatever they are given, good or bad."
A: Do you plan on continuing your equestrian career in college?
D: "I do plan to continue my equestrian career through college and hopefully past that. I'm planning on riding for whatever school I go to as well as continuing to show on my own."
A: What events did you compete in? What do they entail?
D: "When I show in regular competitions I show in the 3'6" equitation medals, what we call the Big Eqs. Basically, a judge judges my posture and position over a course followed by some sort of test either over a shorter more difficult course or on the flat. In IEA I show in the 2'6" Open Varsity division. I'm assigned two random horses, one to jump and one to show on the flat. A flat class is when all riders in a division are in the ring at the same time and walk, trot, and canter both directions and perform tests when directed."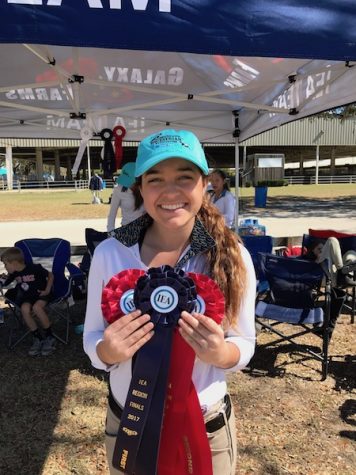 A: What title did you win?
D: "This past weekend I was Reserve regional champion over fences and reserve regional champion on the flat after an extensive work off. I also did an over fences class representing my team and got first place. My team ended up Regional Champions for the second consecutive year."
A: What is next for you after the Region finals?
D: "My team will move on to Zone finals March 10-12 in Tryon, North Carolina. Because I was regional reserve champion, I will also move on to zones individually on the flat and over fences. After Zones I hope to qualify for national finals at the Virginia Horse Center in Lexington, Virginia."
A: What is your favorite part about riding horses?
D: "I'm not sure I have a favorite part about riding. I love the people I meet and the experiences I gain through traveling. Riding is a huge time commitment and is very hard on me but I get the chance to work with talented and knowledgeable people. More than anything though I work with incredible, expensive, and beautiful animals who never fail to amaze me."