HOA: Rachel Tata Performs at Carnegie Hall
February 14, 2017
Senior Rachel Tata is known around Academy for her incredible gift of singing, but recently, Tata's talents took her all the way to the Big Apple. Last week, Tata had the honor of singing in an all women's choir in Carnegie Hall. She was able to grace the stage that huge stars such as The Beach Boys, The Rolling Stones, and David Bowie have performed on. Upon her return, the senior was able to sit down with Achona and share her once in a lifetime experience at Carnegie Hall.
Achona: How did you get the opportunity to perform at Carnegie Hall? What was the audition process?
Rachel Tata: "I was nominated by Mrs. Kimbler for the Honors Performance Series program. The application process included filling out a basic application form with some essay questions, like why would you want to attend the program and how has singing impacted you and what does it mean to you?, a performing biography with all of your past experiences and current activities that have to do with singing and performing, and the last one was an audition tape. You were required to tape yourself singing one aria or art song and send it into them along with what voice part you were auditioning for. I sang "Sento Nel Core" by Alessandro Scarlatti and auditioned for voice part Soprano One. We had to submit everything in September and we found out if we got in on Halloween."
A: How many girls were selected to be in the choir?
RT: "So, there were two choirs that you could be placed in. One was the co-ed Concert Choir which was about 250 people and then there was the Women's Choir. I was selected to be in the Honors Women's Choir and we had about 140 girls. Our conductor was Dr. Tim Seeling and he was amazing. He conducts the San Francisco Gay Men's Choir, has performed in Europe as a professional opera singer and has a bunch of other cool credits to his name. He definitely made rehearsals fun and entertaining, especially because we were in the same room for five to seven hours a day. I really learned a lot from him, especially about how the voice works and how to sing without hurting your vocal folds and other really informative stuff like that."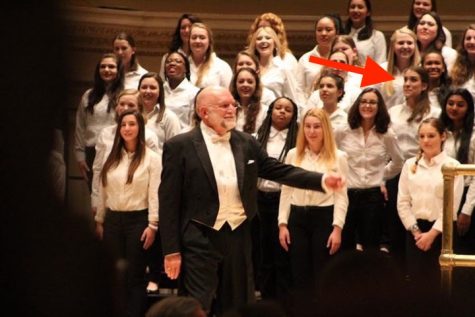 A: Describe the day of the performance.
RT: "Sunday, was the Concert day. Instead of rehearsals for the first half of the day, we did some sightseeing. We got up super early and got downstairs by 7:15. We left the hotel and got a walking tour of Times Square and Rockefeller Center. Around sunrise, we went to Top of the Rock, the observatory at the top of Rockefeller Center. You could see all of Manhattan and beyond; it was gorgeous. My parents flew in on Saturday morning so I got to spend both Saturday and Sunday with them. They signed me out with the chaperone after Top of the Rock and we went out to lunch and went to Greenwich Village. After, I had to be back at the hotel for the final rehearsal from one to three and then it was off to Carnegie Hall for the sound check. The first time we walked out on that stage was absolutely breathtaking; it was like a dream. The Hall is everything you could imagine and more. After soundcheck, we stayed at the Hall and our concert started at 8:30. The Young Adult Choir went first, then us, and then the Concert Choir. Our set list was about 30 minutes and we sang six songs: "We Are the Stars" by James Eakin the III, "Sure on this Shining Night" by James Agee, arranged by Morten Lauridsen, "Gloria by Ola Gjeilo," "El Vito" arranged by Joni Jenson, "Famine Song" arranged by Matthew Culluoton, and finally "How Can I Keep From Singing" arranged by Gwyneth Walker. After the performance was over we were bussed back to the hotel where we met our parents and had a final celebration."
A: Were you nervous performing in such an iconic venue? How did you overcome your nerves?
RT: "I wasn't really nervous, but I think a lot of things helped with this. First, our conductor was very reassuring and patient. He also made sure we were prepared to sing and knew our material thoroughly. Also, everyone in my choir was prepared ahead of time with the music. They knew their parts, they were experienced with singing in a choir, knew what they were doing and wanted to be there. Also, the sound check before at Carnegie Hall was really helpful because we ran everything through as if it were the real performance. I was more excited and eager to get up there and sing because I was comfortable and confident with what I was singing. I knew that 140 girls had my back, we all knew what we were doing, and we had an amazing conductor that was there to help us every step of the way, including the performance."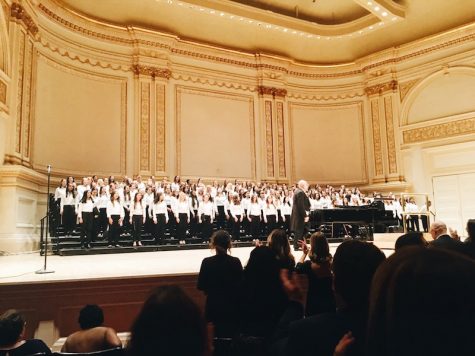 A: What was your favorite part of the experience?
RT: "I loved every minute of the experience. New York is one of my favorite places to go and I can't help but be happy every second that I'm there. All of the girls were super nice and I made some amazing friends that I still keep in touch with. My chaperone was awesome and I can't say enough good things about our conductor, Dr. Seeling. Performing at Carnegie Hall was like a dream come true. It was so surreal; I couldn't stop staring at the Hall onstage. It's something that you definitely get lost in. Standing on the stage where so many professionals and legends have performed, like Bernadette Peters, The Beatles, Duke Ellington, Billie Holiday, Chita Rivera, Judy Garland etc., and then getting a standing ovation when we finished, it literally brought tears to my eyes. It's definitely something I'll never forget."
Tata hopes to continue her singing career in college as she has auditioned for several performing arts programs at universities all around the United States. Carnegie Hall is only the beginning for the budding star.