Fabletics: Fan or Foe?
March 21, 2017
In 2013 Justfab Inc.'s CEO's, Don Ressler and Adam Goldenberg, joined together with Kate Hudson to create Fabletics. They created this company when they noticed the lack of high quality and affordable active wear for women of all body types. Being an actress, a mother of two, and a trendsetter, Hudson emphasizes the importance of inspiring and supporting women to live active and healthy lives.  Fabletics competes with more expensive brands like Lululemon and Athleta. Both of these competitors manufacture fairly small sizes.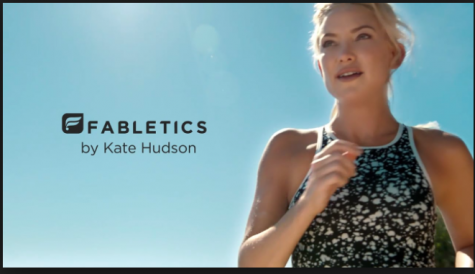 One component of the brand that customers like are their vibrant sets. Fabletics printed yoga pants and shorts are matched with printed sports bras. Workout sets like these are very appealing to buyers. Learning specialist, Danica Rodriguez, only owns one piece of Fabletics apparel.
Rodriguez says, "I own a pair of purple space leggings and I love them, they are super comfortable and very fabulous."
Junior Sam Garateix loves Fabletics and has always had a great experience with them.
Garateix says, "Honestly I love Fabletics. I think Kate Hudson is so cute, and so I went to the store at International and bought a pair of leggings and a shirt, and they are honestly so soft and comfy and cute. It's basically Lulu for cheaper. The ladies that work there are super helpful in helping you get the right size or style for your body. I think everyone should go and buy clothes from there."
The girls that do not like Fabletics view it as a scam. Fabletics tries to make the customers pay more money even though they promote an affordable brand for everyone. Senior, Olivia Stevens thinks they are deceiving their customers.
Stevens says, "They are a scam. Once you become a member of their website then they charge you $50 a month; not worth it."
Freshman Ella Castellano used to enjoy Fabletics apparel, but now she doesn't.
Castellano says, " I used to like them, but the people at the store aren't helpful and Kate Hudson keeps designing patterns that are too crazy for me to wear. I don't like the quality of the clothes either. They feel cheap."
Some girls both like and dislike the Fabletics brand for specific reasons. For example, Senior Lexi Diez loves the quality of the clothes, like  the yoga pants. However, Diez thinks becoming a member is a scam because she does not want to pay $50 a month.
Diez says,  "I can't really decide if I like it, because it is kind of scam because they charge you $50 every month if you don't buy an outfit. The benefit is that when they charge you, you get 50 points. With points, you can buy outfits and accessories. I have a lot from them, their yoga pants and jackets are really nice. They're super good quality so the price can be worth it."