FitBit vs. Apple Watch
March 20, 2017
Wearable technology is dominating the marketplace, with many options available to consumers with various lifestyles. Although there are several options, there are two clear competitors in the wearable technology marketplace: Apple and FitBit. Several Academy students are among the millions of owners of this revolutionized technology. Below is a breakdown of the differences and similarities between the two products.
The first category Achona compared includes general uses of each product such as sizing, battery life, customization options, and pricing.
Junior and Apple Watch owner Ashley Anderson says, "I think it's important to look at the basic stuff each watch offers since that's what you'll use it for the most. I'm biased though because I love my [Apple] watch."
One of the most definitive differences between the Apple Watch and FitBit is the price. The Apple Watch Series 2 starts at a hefty $369, but increases with additional strap, material, and size customization. Whereas the FitBit starts at $99 for their original Flex 2 tracker and maxes out at $249.95 for the Surge tracker, which is complete with every amenity FitBit offers. The Apple Watch Series 2 has a battery life of 18 hours that includes using it for notifications, time, and a 30 minute workout. The most common FitBit, the Alta, has a battery life that can last up to five days, with minimal screen use. Compared to Apple's mere two, FitBit has seven different versions available for purchase that vary in size, price, and capabilities.
Next, Achona compared each watch's communication abilities. This includes sending and receiving text messages and emails in addition to being able to make phone calls.
Because the Apple Watch syncs via bluetooth with the user's phone, text messages and emails are carried over to the watch. This also allows users to write and send new texts and emails through the piece of technology sitting on their wrist. The FitBit is limited to their abilities in communication due to the fact that it can be used with various types of smartphones. Instead, the FitBit offers the ability to get a notification when you receive a text or phone call, but there is no way to respond through the watch. On the Apple Watch, users can initiate or answer phone calls and hear the person to which you are speaking through a small microphone on the watch. In response, the user can talk into their wrist to the person on the other end.
Sophomore and FitBit user Myah Rhines says, "I don't mind not being able to respond to texts but I just like knowing I got one so I can check my phone."
Possibly the most popular feature of each watch is the activity and health tracking capabilities. The Apple Watch is known for its campaign to "Close Your Rings", which motivates users to fulfill their daily move, exercise, and stand goals.
https://www.youtube.com/watch?v=Qkmn6ZRTsOM
The FitBit's trademark motivator is the buzz users feel on their wrist when they hit their 10,000 steps, or five miles, which is the pre-programmed goal for all users to reach. Two features that the FitBit and Apple Watch share is a heart rate monitor and calorie trackers. These "calorie trackers" alert users of how many active calories they have burned in a specific window of time.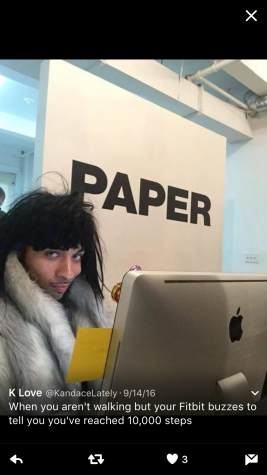 Freshman Meredith Hemmings says, "Whenever I feel the 10,000 step buzz, I feel so accomplished and healthy. But I usually just want to get a burger after."