Life Lessons As Told By Dana Nazaretian
March 10, 2017
Dana Nazaretian, who has been teaching at Academy for over ten years, is known for her endless knowledge on history and her iconic phrases. The wise owl that she constantly shares her top life lessons and advice with Academy students.
Throughout Nazaretian's life, she has picked up some lessons along the way.
To all of the seniors going off into the "real world," she says, "I want the girls to be aware of their surroundings and to be safe.There are a lot of 'crackaloons' out there."
As for her grace and poise, Nazaretian says,  "It's all about who you surround yourself with; be around good and smart people. My family, including my dogs, and Mrs. Kearney are all I need to keep me sane."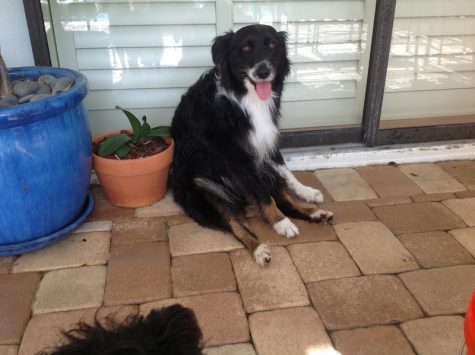 Although the history teacher's strongest relationship seems to be with her dogs, she shares what the many lessons she's learned from friendships ranging from herself to realizing who is worth fighting for.
"Besides the stereotypical qualities like loyalty and what not, I think for a healthy friendship, it is important for you not to be dependent on that person as well as they not be dependent on you. I speak from experience and I realized that I wasn't going to be happy until I stop trying to fix everything, take care of people, or play that mom role," says Nazaretian.
When you say yes to others just make sure you're not saying no to yourself ..

— Rev Run (@RevRunWisdom) December 2, 2016
As for careers, Nazaretian says, "I was extremely unhappy with the job I had prior to teaching and it was beginning to affect my health. It is so important to do what you love despite the salary because it'll make you so much more happy. I know we all hope what we love is also what is going to make us the most, but mo-money mo-problems…"
"I love Naz and I take whatever she says to heart. You could call us coworkers within Mini Course Committee because we really do split the work equally. It's just so obvious that she cares about her students, she's an amazing teacher and you can tell she's happy," says Senior Liz Benjamin.
Just when Nazaretian thinks she has nothing left to offer, best friend and co-worker, Lori Kearney, chips in and says  "you [Nazaretian]  always say 'if you're not the lead dog, the scenery never changes,'"  but Nazaretian immediately responds "I didn't make that up though, I can't take credit, but it is true."
The four years of high school fly by quickly, but students will learn a lot about themselves and life during this time. Nazaretian did not really grasp as to why people would want life lessons from her, however due to her humble personality, she does not realize the amount of students who admire her for not only her ability to teach but for the passion she has for it.