Two AHN Seniors Achieve Dream of Going to SNL
March 6, 2017
Back in October, Seniors Emily Orama and Brittany Bramwell tweeted a video at Saturday Night Live cast member, Leslie Jones,  asking for tickets to see the show live. They sought out help from their fellow classmates and even got the support from comedian and former SNL cast member, Jay Pharoah, to help them get tickets, but unfortunately it did not happen.
Hey @Lesdoggg if you check this out it would make these kids day!! https://t.co/an9lpncuAW

— Jay Pharoah (@JayPharoah) January 8, 2017
Remaining persistent, Orama and Bramwell each separately entered into a contest to win tickets to the show. The contest asked for participants to explain why they are the biggest fans of SNL. In an email, the seniors attached the video they previously tweeted at Jones. Miraculously, both of them won; Bramwell winning two tickets to the show on March 4 and Orama winning tickets for the show the following weekend. The two chose to attend the show on March 4, the same weekend as Orama's birthday.
Orama recalls the moment she realized the day had finally come, saying, "I woke up with tears in my eyes because I knew that that day was the day."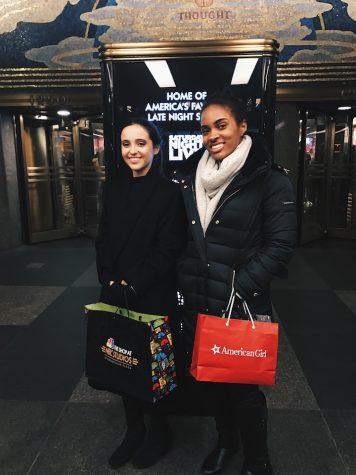 When Orama and Bramwell arrived, they were taken backstage and witnessed the whole cast preparing for the show. That evening, the two were able to see the host of the evening, Academy Award winner Octavia Spencer, along with the musical guest Father John Misty.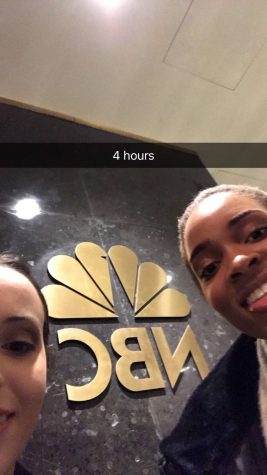 Bramwell says, "Our seats were in the last row on the floor and they [the cast] all walked behind us as they changed from skit to skit. It was crazy to have them walk right behind me in a rush to get to their next skit and they would occasionally brush past us."
Both agree that the experience overall was phenomenal, but both say their favorite part was seeing Jones, their idol and favorite cast member.
Orama says, "When we saw Leslie come out it was honestly a dream come true because we finally got to see her live and in person."
With the help and support of their classmates and new found friend Jay Pharoah, these two SNL enthusiasts got the once in a lifetime opportunity to watch their favorite comedians perform in the famous Studio 8H.