6th Annual Cuban Sandwich Festival Comes Back To Tampa
April 3, 2017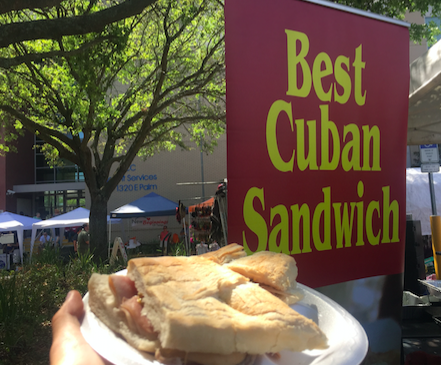 From foodies alike, everyone knows that Cuban sandwiches are a staple food in Tampa, Florida. On March 31, the Annual International Cuban Sandwich Festival made its 6th Annual appearance at the Hillsborough Community College – Ybor City Campus. This festival is a three-day event, showing the best of Cuban sandwiches Tampa has to offer.
The idea for the festival was birthed in October 2011 when co-founder, Victor Padilla, said "The Cuban is Tampa's sandwich," he said. "It needed to be honored."
Day one of the festival began with Opening Night where vendors from all around the area and the world come to the festival area in Ybor. Vendors pitch up to their tents and begin their three-day journey to feed food lovers from all around Tampa Bay. Featuring restaurants from around the Tampa bay area as well as all around the world including London, England, and Seoul, Korea. Filled with music, entertainment, and food.
Senior, Lara Lontoc says "I tried the Cuban sandwich from Seoul, Korea and I was blown away. I love Cuban sandwiches from Tampa, Florida but they had Cuban sandwiches that had kimchi added to them. I really do love seeing the variety of ingredients they used in order to have their own twist to it."
Aside from just presenting a delicious variety of Cuban sandwiches, this festival kicked off day two from noon to 6 pm with a day of art exhibits, live music and the making of a 150-foot Cuban Sandwich, breaking the world record!
Lontoc says, "When I first saw all of the tables that were set up for the 150-foot long Cuban sandwich I was so surprised. It was almost the length of the whole festival venue."
More events that were included was a kid's Cuban smackdown where kids from the ages of 5-14 created a Cuban sandwich and a Cuban sandwich eating contest.
The final day of the festival showcased the contest of who the 2017 Cuban Sandwich world champion is. Named "The Big Day: Smackdown Sunday" it is the day when contestants from around the world compete for the title of world's best Cuban sandwich.
The vendors that participated in the Cuban sandwich festival were Tampa Sandwich Bar, The Floridian, Benitez Bistro, Empamamas, BarbaCuban, Fridays, Las Palmas, Tias Authentic, Holy Hog, Tia's Authentic, La Flor, and Cubanito Subs.
But if you missed out on these events here is a recipe to make yourself a perfect Cuban sandwich.
6th Annual Cuban Sandwich Festival from AchonaOnline on Vimeo.