The Significance of Spreading Positivity Behind the Screens: Social Media
April 18, 2017
In today's day and age, the majority of people's opinions, ideas, and thoughts about reality stem from social media. The presence of the internet in the daily life of a person is overwhelming and, therefore, can fill individuals with false impressions. For example, a comment or picture can be posted with the right intentions, but could have a sarcastic or bitter connotation. In other cases, anonymous identification on internet accounts could propel someone to share gratuitous and, at times, obscene opinions of a person or event. Dissenting opinions that are posted online have the ability to profoundly influence an outsider's views on both a situation and a user.
Junior Emma Heston says, "When people are so outspoken about their opinions online, others go off their opinion which is not necessarily factual and it can change how you view a person. So, if you want to say something about someone on social media, make sure it is positive."
The act of spreading social media positivity is essential in a world where news, often disturbing, plagues internet pages. Although it may seem insignificant, the action of sharing something on the interwebs that is beneficial in some fashion can change someone's outlook, which will translate into kind deeds performed with a good attitude.
Dove, as an example, has their own positivity campaign on Twitter where they examine someone's profile and give back an analysis on how to spread more positivity on their social media accounts. The company also questions their consumers and examines their own positivity coverage to focus on how they will manifest confidence and identify all kinds of beauty via Twitter.
Your responses to our 60th birthday question are cause for celebration! How will you continue to #RaiseTheBeautyBar? pic.twitter.com/qB7KEBA9Lz

— Dove (@Dove) January 31, 2017
Amazingly, a single tweet can achieve a million views in just a short matter of time. An Instagram post has the potential to gain instantaneous feedback, so why not share something that has a positive social impact?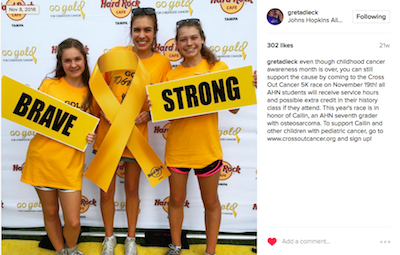 Below are ways to create a bright and happy atmosphere on social media.  
Rather than sharing pessimistic material on Twitter, use the app to share brief and encouraging messages. 
https://twitter.com/DonladGlover/status/847100071871098881
2. Social media sites were cultivated to initiate communication, so take the opportunity to actively engage with followers or friends on sites such as Instagram and Facebook.
3. Wishing friends "Happy Birthday" on social media is another small, but positive way to be a friendly and active user on social media; fortunately, some websites and apps, such as Facebook, Twitter, and Snapchat, notify others on the birthday of a user.
4. Use social media as a platform to take a stance in the community. There are so many campaigns with great causes that are either generated or supported on the Internet. For example, The Malala Fund advocates for changes and amplifications in the education field for girls around the world via social media.
Sophomore Hira Khan says, "I have a subscription to change.org and it sends me daily notifications and allows me to sign online petitions. On Instagram and on my other social media accounts, I follow the Women's March which is great because I receive updates of what is happening in the world with feminism. Especially with the political scene of today, it is good to know what is going on. I believe that this is a good way to spread awareness because the majority of people have social media, so it is an accessible way to acquire knowledge of real events going on right now; also this is a great way to start conversation between friends and family so we can have an understanding of the political atmosphere and do something about it."
5. Use media to forward, or send out, efficacious and uplifting stories that share beneficial messages. On Twitter and Facebook, it is a simple task to re-post or retweet videos or articles with these constructive ideas and meanings to followers.
Rachel Tata, 12, says, "I think using social media to spread inspiration and joy is a very good idea, especially with all of the negative sides of social media. I, personally, love watching the videos that tell the stories of real people in real situations; I get so inspired and it makes me so happy."