Cailin Cannella: A Life of Joy
September 28, 2017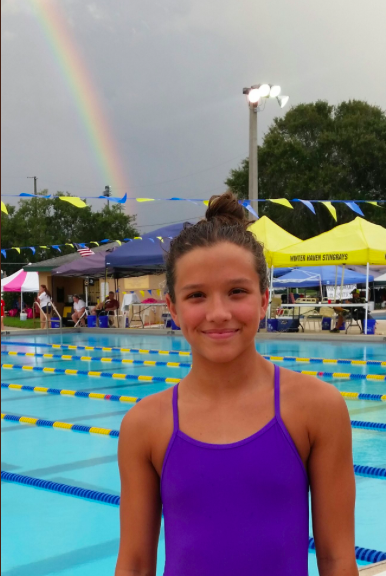 Cailin Cannella, an 8th grader at AHN and member of the swim team, who passed away on Sept. 18, was known for her dedication, strong spirit, and joy.
Swim teammate, Haley Palumbo ('18), said, "I just remember she was always smiling."
Cailin began swimming on the Academy club team in middle school; during her first varsity season, in sixth grade, she competed at Regions and narrowly missed States.
Her fellow teammate, Lauren Sellers ('18), said, "Cailin loved swimming religiously. She was naturally so good at it."
Even when Cailin was diagnosed with osteosarcoma, on Sept. 9, 2016, she never stopped coming to practice. After her first round of chemotherapy, Cailin shaved her head and kept swimming, seemingly undeterred.
Sellers said, "Cailin would come to practice early to get some extra time in the pool. I remember Hurricane Matthew was about to hit and Cailin was still coming to practice. That's how Coach Bill came up with the phrase #CailinStrong – she wouldn't let anything stop her from swimming."
Even though Cailin fought hard, the osteosarcoma progressed rapidly. By mid-November, the cancer had spread to her lungs. The swim team supported her every step of the way.
Sellers said, "After we found out about her diagnosis, the team went to her house and wrote encouraging messages on her floor so she knew we were there for her."
During the summer of 2017, Cailin increased her chemotherapy treatment and radiation therapy. Members of the swim team visited her and remained by her side.
Cailin has unending support…
Swimming is family! #CailinStrong pic.twitter.com/BFd3J6KZJz

— Academy Aquatic Club (@AACswimteam) July 20, 2017
One of Cailin's teammates, Cassidy Neely, had wristbands made with the phrase #CailinStrong – I Shall Not Fear.
On her 14th birthday, the one year anniversary of her diagnosis, members of the swim team brought the party to Cailin's house.
Standing by a friend…priceless!
Happy B-Day Cailin, we love you! #CailinStrong #SwimmingIsFamily pic.twitter.com/2a7LF041P2

— Academy Aquatic Club (@AACswimteam) September 10, 2017
Cailin's friends, Chloe Mintz and Laura Jung, created a fundraiser and held an event on Sept. 15 to benefit St. Jude Children's Research Hospital. Over $10,000 was raised. Unfortunately, that same day, Cailin fell unconscious.
Three days later, Cailin's family made the decision to remove her breathing machine. Cailin passed away around 1 p.m. on Sept. 18. Her last words were, "Mommy, I got this."
On Sept. 21, many Academy students attended Cailin's funeral at The First Presbyterian Church of Tampa.
Gabby Delp, ('18), said, "There were so many people and flowers. It was the most flowers I'd ever seen in one place. The church was so full people had to stand outside. It was amazing to see how many people were there for her."
At the last meet of AHN's swim season, on Sept. 27, Cailin's lane was left empty during the 100 meter breaststroke, a symbol of Cailin's place in the memory of the Academy family.