Popular Halloween Events to Attend in Florida
October 6, 2017
With Halloween right around the corner, fall festivities and thrilling Halloween-themed events have made a return. The month of October is jam-packed with various events to attend in order to get in the Halloween spirit.
Hyde Park Pumpkin Patch:
Hyde Park Village opens an annual pumpkin patch starting September 29 through October 31. A pumpkin patch is the perfect place to scout for pumpkins to carve with friends and family during the fall season, while also being a prime spot for fall themed photos.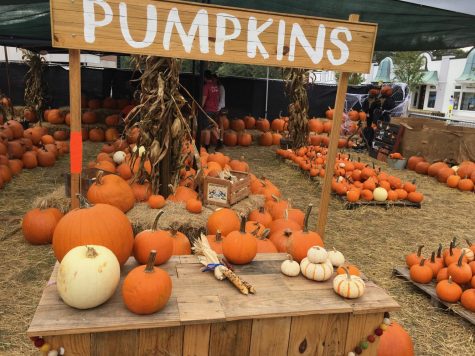 Amelia Traviesa ('20) said, "I went October 1, because it was the start of fall and I went with my friends. We sat on the pumpkins and took cute photos, and it was really exciting because we got to wear sweaters and drink Starbucks."
Howl-O-Scream: Unearthed
Each fall, Busch Gardens hosts an annual Halloween event called Howl-O-Scream. This year's theme, "Unearthed", will have the park and most of the haunted houses filled with zombies and supernatural happenings for those who dare to enter. This year, the event is open from September 22 through October 29.
Lexi Rios ('21) said, "I love Howl-O-Scream. Some of the houses are scary, but it's really fun because I go with a big group of my friends almost every year."
Halloween Horror Nights:
Universal Orlando transforms their park annually into Halloween Horror Nights, a Halloween event created to scare people of all ages, full of gruesome decor and creatures to horrify all attendees. The park is comprised of nine terrifying haunted houses and many rides and attractions. The event begins Sept. 15 through Nov. 4.
https://twitter.com/WhiteGirIs/status/913961347431436288
Lauren Perez ('18) said, "I went this year and it honestly was not as scary as I thought it was going to be. The haunted houses were more realistic, which made it more scary, but overall it was fun."
Scream-A-Geddon Horror Park:
Scream-A-Geddon Horror Park is located in Dade City, Florida. The park has six spine-chilling attractions: Infected Ground Zero, Blackpool Prison, Bedlam 3D, Deadwoods, Cursed Hayride, and Monster Midway. After purchasing a ticket, they give attendees the option of wearing a glow necklace, which allows the employees to touch them. The park run this year Sept. 29 through Nov. 4.