Academy Law Class Serves as Jury Members in Hillsborough County's Teen Court
November 13, 2017
Teen Court is a juvenile diversion program in which "Youth who commit delinquent acts may be dealt with in a speedy and informal manners, stressing the importance of good citizenship, personal integrity, and family communication."
Academy students in Dana Nazaretian's law class had a visit from Pamela Stokes, the Teen Court coordinator, who explained to the class how teen court works and encouraged them to volunteer.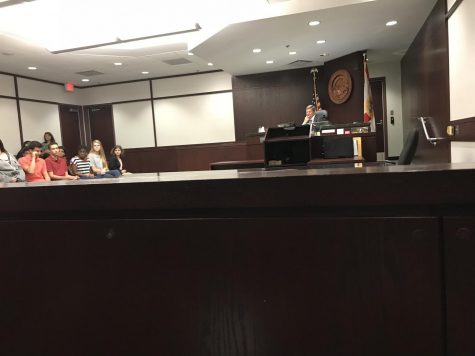 "It was nice applying what I learned in law class to the real world," said Jaed Seymour ('18).
The principal goal of Teen Court is to keep first time offenders who have juvenile who have accepted responsibility for their actions out of jail. In teen court the defendant sits in front of a group of his or her peers who are volunteers from local high schools or previous defendants who are required to serve as jury members.
"I loved being a part of the jury because was able to listen and discuss a real court case and it made me open my eyes to the fact that every action has a consequence," says Hannah Smallwood ('19).
The defendant will make a statement on their own behalf and then the jury members will ask questions about the crime. After all questions have been asked by the jury members, the jury will leave the court room to deliberate and decide the punishment for the defendant. Punishments range from community service to family counseling and must be carried out within a timely manner.
Gelmi Pasquier ('19) said, "I thought it was a cool experience because I don't know any felons so it was a different outlook on the court system."
Teen Court takes place every Tuesday from 5:30 pm to about 8:00 in the Edgecomb Courthouse in Downtown Tampa and is open to any and all high school student volunteers.