How Old is Too Old to Trick or Treat?
November 1, 2017
There comes a point in everyone's life where they have to grow up. Growing up means giving up childish things, such as trick or treating. When is the turning point? How old is too old to trick or treat?
What age is TOO old to #trickortreat ???#TrickorTreats

— Memphis Spence 🏈🏀⚾ (@MemphisSpence) October 30, 2017
Technically, you are able to trick or treat as long as you want because there are no laws or rules about trick or treating. Some people even encourage trick or treating at an older age; it theoretically prevents teenagers from going to parties and drinking. Many people think that you are never too old to trick or treat.
This happened last year
Me: trick or treat
Man: aren't you a bit too old to be trick or treating?
Me: nah don't think so
Man: oh okay

— 𝓝𝓮𝔀𝓽 (@newt_mz) October 31, 2017
Many believe that when you reach high school, trick or treating should come to an end.
Paige Coleman ('18) said, "I think 18 is the oldest that should trick or treat, because that is the last year before you go off to college."
Others believe that you should be able to trick or treat throughout high school.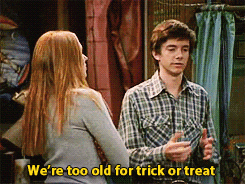 Many high schoolers choose to go to costumes parties rather than trick or treating. Some students feel that they are too old to trick or treat.
Lunchbox went trick or treating by himself dressed as a penguin. #BBS pic.twitter.com/Hd1BbhNmT9

— Eddie (@ProducerEddie) November 4, 2013
For many, trick or treating is a way to connect with your inner child.
Sophomore, Hope Joffray said, "Trick or treating brings back childhood memories and the excitment of getting candy. I believe you are never too old to trick or treat."
Going with a younger child is a way many parents and adults justify their trick or treating.
One town in Canada even took matters into their own hands and banned children aged 16 or older from trick or treating. If these kids are caught trick or treating, they are fined $200.
Jaed Seymour ('18) elaborated on the rule from Bathurst, New Brunswick saying, "I feel like that is just stupid and it is not their business. If I want to go trick or treating, when I am 90 years old, I will."