Holidays Celebrated Around the World
December 4, 2017
Christmas is a holiday observed by Christians honoring the birth of Jesus. Popular customs on Christmas include decorating houses, purchasing trees, exchanging gifts, and having a meal with your family. Children often wait for Santa Claus to bring them gifts and leave of cookies and milk for him. However, Christmas is celebrated very differently in various parts of the world.
Slovenia
"Every year, on the first Sunday in December we go to Chicago to celebrate Sveti Miklavz. There is a place in Chicago called Lemont, it is a recreational center which has a church and a Slovenian cultural center. After church all of us go down to the cultural center. My grandpa dresses up as Sveti Miklavz which is Santa Claus. The girls from the Slovenian Sunday school dress up as angels and the older boys and some fathers dress up as devils. Little kids put on a little show with singing and dancing. At the end Sveti Miklavz will call up the names of all the kids, ask questions, and give them gift and after all the kids have been called we open the gifts," says Nina Alberdi ('18).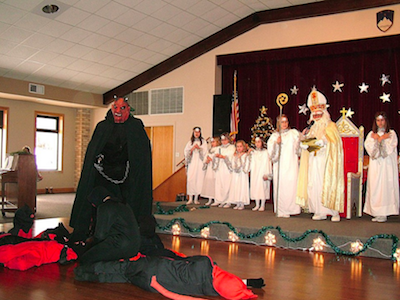 Cuba
"In Cuba they celebrate Noche Buena. On Noche Buena we cook an entire pig and everyone in the family brings a traditional Cuban dish. We always go to my uncle's house and we play music and dance. We arrive at his house at around 2 p.m. and don't leave until around 11 p.m, so we spend the entire day celebrating,"says Evelyn Martinez ('18).
Lithuania
Elena Schillinger ('18) says,"Kūčios takes place on Christmas Eve. For dinner we have 12 dishes that are all fish and all served cold. We have to eat after sunset and we put hay underneath the tablecloth. Before dinner we share Plotkelės and we break a piece off and give it to someone else. We open all the presents from family members. This year we are making Lithuanian christmas ornaments."
T-Minus 3 hours until the 95th National Christmas Tree Lighting! @TheNationalTree pic.twitter.com/6uyOhSeRWc

— Katie J (@kjon) November 30, 2017
Eid-al-Adha and Eid-al-Fitr are two holidays celebrated by Muslims. Eid-al-Fitr is celebrated after the month of Ramadan, when Muslims fast for 30 days. On Eid, there is a prayer in the morning and people wear new clothes and have meals with their families. Eid-al Fitr is a three-day long celebration. The dates of Eid vary according to the lunar calendar, meaning it can fall at anytime of the year. Eid-al-Adha celebrates the willingness of Abraham to sacrifice his son as Allah commanded him too. Eid-al-Adha takes place after Hajj.
#EidMubarak pic.twitter.com/iOWg2edrOm

— Green School System (@greenschoolsys) September 6, 2017
Hanukkah is celebrated for eight days to celebrate how the oil burned for eight days after the reviving of the Temple of Jerusalem. Hanukkah is celebrated by lighting another candle on a menorah each night. There are nine candles and the one in the middle is called the Shamash. The Shamash is used to light the other eight. Gifts are also exchanged among people during Hanukkah.
Feraby Hoffman ('18) says, "Every year we will go to my aunt's house for one day in Hanukkah. While we are there we light the candles on the menorah and we say the prayers. My grandma gives us Hanukkah presents."
"On Hanukkah my family and I all come together after the sun goes down, we get our menorah and candles ready, and light the candles based on what night of Hanukkah it is. There are 8 nights. After we light the number of candles we say the Hanukkah prayer and we sing a Hanukkah song and find our presents that our parents hid for us around the house," says Emmie Valdez ('21).
book menorah is complete!
we hope it brings light to our neighborhood all season long! pic.twitter.com/LtaYBnlPnS

— The Ripped Boo👻dice (@TheRippedBodice) November 26, 2017
Kwanzaa was created in 1966 by Dr. Maulana Karenga. The name Kwanzaa came from the phrase "matunda ya kwanza" which means "first fruits" in Swahili. Kwanzaa celebrations often include dancing, African drums, storytelling, poetry reading, and a traditional meal.
The Chinese New Year, or the Spring Festival as it is now known, was originally tied to the lunar-solar Chinese calendar and was a time to honor ancestors and deities. China began to follow the western calendar in 1912, but continues to celebrate the Spring Festival. Red is the main color of the festival because it is believed to be auspicious. Homes and other buildings are decorated mainly in red. The festival is often celebrated by eating lucky foods, setting off firecrackers, and praying in a temple.