Seniors Ride Float in Children's Gasparilla Parade
January 24, 2018
On Jan. 20, 2018, the senior class had the opportunity to ride on the AHN float in the the Children's Gasparilla parade after enjoying a family-friendly picnic at the Academy.
The picnic before the parade was at 1:30 p.m., and that is where registration was and snacks were enjoyed.
Then, the parade started its route at 3:30 p.m. on Bay to Bay and Bayshore Blvd. and continued to Edison Ave and Bayshore Blvd.
📿☠️ Our Children's #Gasparilla Parade starts today at 3:30PM – event site opens at 11AM with… https://t.co/7bhgxorwqs

— Gasparilla Tampa (@GasparillaTampa) January 20, 2018
AHN provided gum and beads to throw while on the float, but many personal beads were brought as well. They were quickly torn into, and the seniors loved throwing them, and blowing bubbles with the bubble gum, during the parade.
Mia Cardoso ('18) said, "The beads and the gum were so much fun to throw, and watching the excited faces as they caught them was super cute."
Once the parade got started the crowd was screaming and cheering for the girls to throw them something.
"I loved the look on people's faces when we would throw beads towards them," said Cayla Lowry ('18).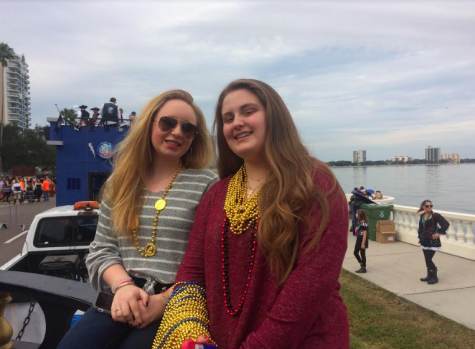 This was not the first time some of the seniors were in the Children's Parade. Some girls who went to AHN for middle school had been on the eighth grade float back in 2014.
Emma Sewell ('18) said in regards to this parade compared to the one four years ago, "It was much more fun this year than eighth grade year because we had more beads to throw and better music on the float."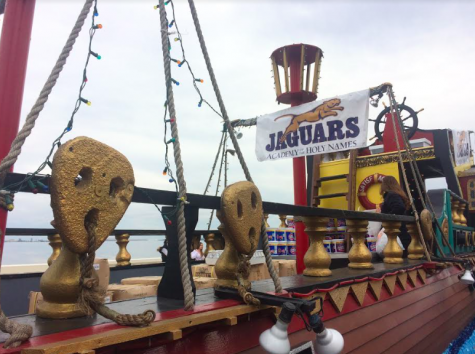 The senior class only had positive things to say, and some have exciting and funny stories after the event.
"I went on the second floor of the float to throw beads, but the loudest people of the crowd wanted gum. It was funny how I'd connect eyes with someone and they would get visibly excited. I especially liked it when I'd throw a bead and it would look like it was going a husband and wife, and they fought for it. The crowd's' reaction was really the thing that made the experience," said Lauren Sellers ('18).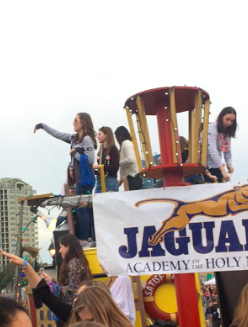 Sellers was not the only one who was thrilled to have partaken in the Children's Gasparilla Parade, and some girls saw it as an opportunity to bond.
Lowry said, "I loved having this bucket list experience with my sisters."