My General Audience Experience with Pope Francis
February 13, 2018
The purpose of traveling to Rome for a week long trip was an Opus Dei initiative. This is a personal prelature of the Catholic Church which teaches people that their lives could become sanctified through ordinary work and it is dedicated to a very special prayerful devotion to the Holy Father. The papal office of Pope Francis arranges what are called general audiences. It is an event attended by anyone who will pay to enter. General audience takes place either outside in St. Peter's square or inside of the papal auditorium. This event is an opportunity for the people to interact with and see the Pope.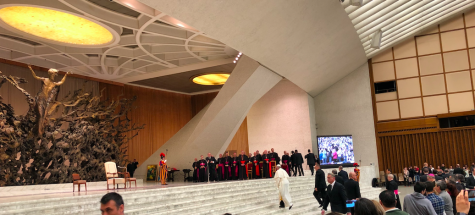 First the Pope, greeted the audience. After his greeting, translators repeated the Pope's greeting in their languages. The languages present were, German, Spanish, Italian, Russian, Arabic, Portuguese, French, and English. After the translated greetings, and Italian circus group performed for the Pope. There were acrobats, jugglers, and clowns. The performance was full of color and life.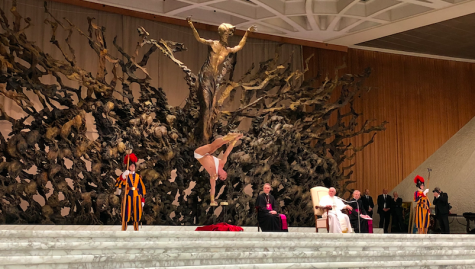 At the end of the general audience, he walked to the people in the crowds to meet various people: disabled people (he spent 20 min with each), brides and grooms, and nuns.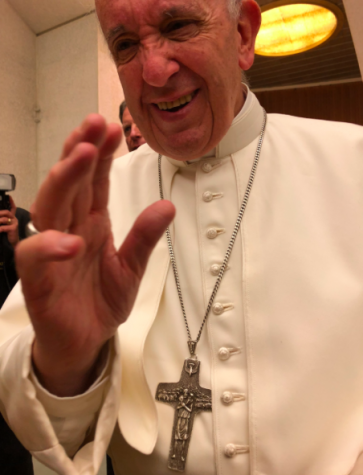 In spanish I asked the Pope to please pray for Venezuela. My mother is from there and the country is suffering a horribly oppressive violent communist dictatorship suffering from extreme levels of poverty and hunger. Violation of basic human rights, including violent arrests and killings are happening regularly.  Pope Francis responded in spanish saying, "Yo reso por Venezuela cada dia. Resa por mi," which translates to, "I pray for Venezuela every day. And please pray for me."