Senior Gabby Hogan Gets Injured at Track Meet
February 28, 2018
Gabrielle Hogan ('18) has been on the Academy Track and Cross Country Team for four years. She runs the 4 by 100 meter relay and 400 meter events.
On Saturday, Feb. 17, 2018, during warmups for a meet, Hogan and her teammate Carolina Cardoso ('20) were practicing handoffs with the baton. While passing the baton, Hogan tripped and the spike on her cleat, and cut her leg from halfway up her calf to a few inches above her knee.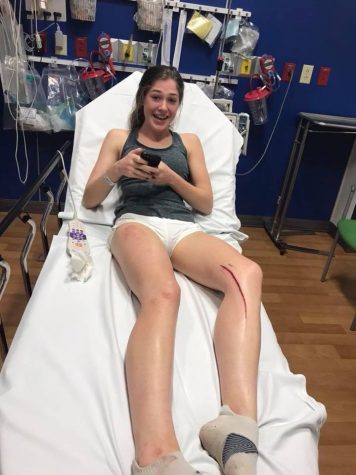 Her friends carried her off of the track and she was taken to the hospital. She was given 27 stitches and is now on crutches. She plans to get her stitches out on Friday, March 2, 2018, and will be back to practice as soon as possible.
Since the accident, Hogan has been unable to participate in practices and meets. Although she is recovering and cannot run, she still comes out to the meets to support her team.