Zumba Trend Begins Among Academy Girls
March 8, 2018
Recently, Zumba has become popular among Academy girls as a way to get cardio into their workout routines, while still enjoying the workout and having fun with friends. Zumba is a fitness program created by Colombian dancer, Alberto Perez, during the 1990's. Zumba is a form of cardio that generally lasts 60 minutes and involves dancing to mainly hispanic music or fast paced tunes, while also including toning exercises such as squats.
Fitness guru, Jaed Seymour ('18) takes Zumba classes at her gym, Crunch.
Seymour says, "I love Zumba because it's a great way to get your heart pumping fast and burn a lot of calories. I probably go to Zumba a few times a month because I like to incorporate more weights into my workout, but Zumba is amazing because you have so much fun and don't even realize that you're working out."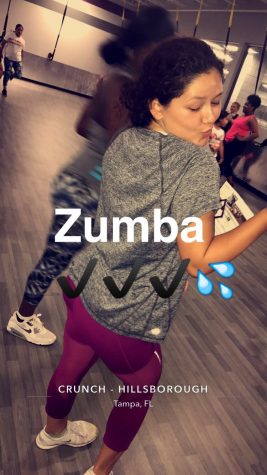 Classes are offered at Crunch, LA Fitness, Flava Fitness, Youfit and even Curtis Hixon Park in Downtown Tampa.
Christina Suarez-Solar ('18) has done Zumba at the Youfit in Carrollwood.
Suarez-Solar says, "Zumba does not even feel like exercise to me because the fun Caribbean and African folk music they play helps me to enjoy my workout and have fun rather than dreading my workout."