The Debate Has Come to an End: Which Wing Place is the Best?
April 25, 2018
There is no feeling quite like enjoying chicken wings after a sporting event. Whether it's baseball, softball, lacrosse, or football season, chicken wings are definitely necessity after a sports game. After much debate and consideration, the top three places which Academy girls get their wings are Hooters, Buffalo Wild Wings, and WingHouse.
Hooters is a sports bar which has become famous among Academy students for their chicken wings. The first location was opened in Clearwater in 1983. Hooters offers over 10 different sauces for the chicken wings, which come either boneless, naked, or with a special breading on them. Hooters is also known for their tater tots, these tots are often used in substitution for fries or even as an appetizer.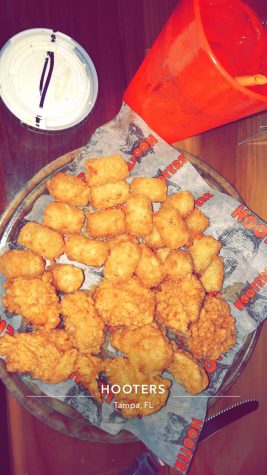 Jaed Seymour ('18) says, "Hooters is definitely the best place in Tampa to get wings. Their breading is so crispy while the chicken on the inside isn't burnt. I love the boneless wings too because you don't feel like you're just eating chicken nuggets dipped in sauce".
Ker's WingHouse is a bar and grill that opened up in 1992 and is based in Florida. They are known for their delicious chicken wings offered with a variety of sauces: Mild, Dallas, Garlic Parmesan, Medium, Teriyaki, and many more. The wings come in different styles: Original, Boneless, Naked, and Buffalo. The original chicken wings are the most popular option, which come lightly breaded with any sauce of your choosing.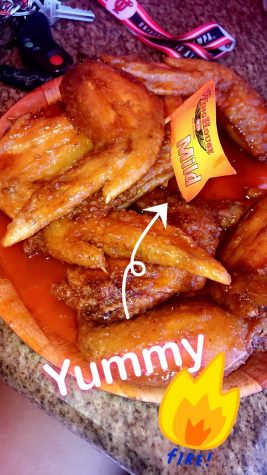 Chasie Cordoves ('21) enjoys going to WingHouse after her softball games with her team.
Cordoves says, "I really like the wings and WingHouse has pretty good service overall. I get my food quick and my order is never wrong. I normally order eight mild wings with curly fries on the side."
Buffalo Wild Wings is a sports bar and restaurant founded in Ohio which has become well known for their wide range of wing sauces and seasonings. Their sauces include: Asian Zing, Blazin' Sauce Bourbon Honey Mustard, Buffalo Seasoning, Caribbean Jerk Sauce Chipotle BBQ Seasoning, and many more. They offer traditional and boneless wings.
Emma Zazzero ('18) and her father enjoy going to Buffalo Wild Wings, because it is their favorite place to get wings.
Zazzero says, "I love Buffalo Wild Wings, the wings are amazing and my dad and I go there a few times a month to see who can eat more of the spiciest wings."
A poll was created to get a general opinion one which wing place is voted to be the best. Hooters won the poll by 48 percent compared to Winghouse and Buffalo Wild Wings.
https://twitter.com/thegabijordan/status/986252088756834310
SaveSave