A Day Out with Academy Dogs and Friends
May 7, 2018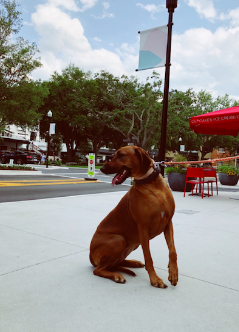 There are many places in the Tampa Bay area that are dog friendly. These places range from the extremely popular Bayshore to the less popular dog store Downtown Dogs. These places are friendly for dogs of all shapes and sizes.
"I have two labradoodles and I usually walk them on Bayshore or take them to Davis Island Dog Park because there are usually a lot of dogs there and its has such a nice view," says Isabella Kirkpatrick ('18). 
Mary Kelly Cardillo ('20) says, "I have two dogs, but one of them is really old so I take the younger one to the park on Davis Island because she likes to run in the water and play with the other dogs."
Boats: With the bay in the backyard many Tampa locals take their dogs out for a day on the boat. There are many beaches and sand bars that are dogs friendly. Boat days with the dogs can be fun for the whole family. 
Cayla Lowrey ('18) says, "I really like going swimming with my dog because she is really playful and she gets really excited when we take her out."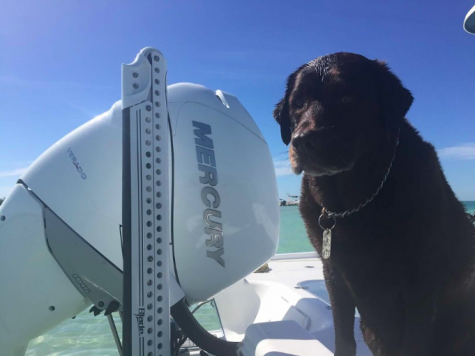 Bayshore: One of the most popular things to do with your dog is take them for a walk on Bayshore. Walking your dog on Bayshore is exercise for both the dog and the owner. This is also a great way for dogs to make friends as many people take their dogs out for walks on Bayshore everyday.
Natalie Smith ('19) says, "I throw the ball to Zac and he chases it. I love to take pictures of him on Bayshore and he always loves seeing other dogs."
Downtown Dogs: The Downtown Dogs store in Hyde Park is a high end dog store where dog owners can get buy everything for their dogs from custom collars to dog treats of every flavor. Downtown Dogs also has dogs of their own to entertain their customers while they shop.
Sprinkles: The increasingly popular Sprinkles Cupcake ATM also has dog friendly options like pup- cakes and pup-cream. These treats are the equivalent of cupcakes and ice cream, except safe for your dogs to eat and not get sick.
Starbucks: Any Starbucks will give away a free cup of whip cream for dogs. It's called a pup-cino, a spinoff of a frappuccino for puppies. This item is completely safe for dogs and contains no caffeine. 
Hyde Park:  Hyde Park is one Tampa's many attractions. This pet friendly town center has restaurants that leave water bowls out for dogs and doggy menus. On the first Sunday of every month Hyde Park hosts a  market where street artists and vendors set up tents on the street. Some tents hand out dog treats and sell collars and leashes.
Alexandra Fonseca ('18) says, "I love taking my dog Luana to the Sunday market in Hyde Park because they are so incredibly dog friendly."
SaveSave